Stockpiling as Russian food prices soar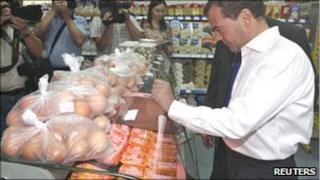 There is fear in drought-stricken Russia where the price of some essential food products soared 30% in August, but though the heat is on to make the government intervene it is dragging its heels.
Under Russian trade law, the government is free to do so if prices rise by 30% in 30 days, so in theory it could introduce a maximum price of a food product in any region of the country for 90 days.
Take the price of buckwheat, an extremely popular meal among Russians. Its price rose by between 30% and 84% in almost half of Russia's regions, according to the Ministry of Trade and Economic Development.
And in the weeks and months ahead, buckwheat prices are set to rise further, along with the price of rice, eggs and milk, after prolonged drought during summer destroyed crops across the country.
It is worst for the poor, of course. For people such as Liliya, 41, who lives in the Ivanovo region.
Every month, she spends a couple of weeks in Moscow to earn money for her family. And next time she goes she will buy a lot of flour and a bread baking pan, as "it is unclear what the situation will be like when winter comes".
Stockpiling
Officials are eager to stress that there is no danger of any food shortages.
Moscow Mayor Yuri Luzhkov is advising Muscovites "not to stock up" and insists the city "will be fully supplied with cereals [such as semolina, buckwheat and millet], and with rice, of course".
Most people blame the drought, which lasted until the end of August, for the soaring cost of food, but policymakers insist this rush to stock up is also pushing up prices.
"People who have never eaten buckwheat in their whole life, now suddenly run to the shops to buy big 10kg sacks of the stuff," Andrei Tsyganov, deputy chief of the Federal Anti-Monopoly Service, told RBC Daily, a Russian business newspaper.
Ivan Nikolaev, consumer goods analysts at Aton brokerage, says both views are reasonable. The drought has accounted for about 60% of the price rises, he estimates, with the remaining 40% caused by "panic buyers or speculators".
Importing food
Speculators would lose out if price controls were introduced, of course, but for now the government remains reluctant about stepping in.
There are no real shortages as there is enough supply in the market to satisfy current demand, according to economic development minister Elvira Nabiullina.
Indeed, she believes it could be counter-productive to curb food prices and points to how price limits in one region could result in traders in other regions raising their prices too. Fresh shortages would emerge and the black market would thrive.
Mr Nikolaev from Aton believes a ban on grain exports, which was introduced in August, should be enough for now to keep the food supply situation under control.
And he points out that controlling prices is just one of several options, such as farm subsidies, available for the government.
But not everyone is mollified.
Some regional and federal officials have been talking about importing cereals and milk from China and other countries.
'Slap the wrists'
The Federal Anti-Monopoly Service has started hunting down the speculators, conducting snap checks to prevent them from making money from the misery caused by the drought.
Yet there is plenty of evidence that the market is being manipulated.
Salt prices, for instance, have risen sharply in the wake of the drought.
So President Dmitry Medvedev has taken an interest, urging officials to publish timely information about actual supplies of food products in an effort to make it harder for speculators to create panic.
"We need to explain [the situation to the Russian people], and we should slap the wrists of those who try to inflame the situation," he says.
The Russian government is now waiting for Rosstat to publish its August statistics to find out exactly how much of the price rise was driven by the drought. Only after analysing the figures will it make a decision about whether or not to regulate prices.
For Russia's poor, the wait is painful.
"My salary stays the same so my food budget stays the same, but food prices are soaring," says Lyubov, 56, a working pensioner from Moscow.
"So if buckwheat gets much more expensive, I might have to stop eating it with milk, as I usually do, because I will not be able to afford it."