Eurozone growth of 1% confirmed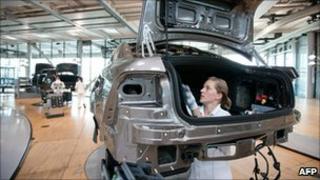 The eurozone economy grew by 1% between April and June, official figures have confirmed.
The initial estimate was published last month, showing stronger growth than expected, largely due to strong exports that were boosted by a weaker euro.
The German economy, which grew by 2.2% over the three months, helped to drive the zone's overall growth.
The figures confirmed the eurozone is growing faster than the US economy, which grew by 0.4% during the quarter.
Exports grew by 4.4%, exactly the same amount in percentage terms as the increase in imports, the zone's official statistics agency, Eurostat, said.
Growth in the eurozone was also boosted by a rise in household spending, which was 0.5% higher than in the previous quarter.
'External recovery'
Eurostat also confirmed that growth in the UK between April and June was 1.2%, while growth was 0.6% in France, 0.4% in Italy and 0.2% in Spain.
The Greek economy shrank by 1.5% and was the only economy in the eurozone to contract during the period.
"It's an externally led recovery - if you look at export growth it's very, very strong," said Stefan Schneider at Deutsche Bank.
However, he questioned the strength of household spending, despite the modest rise in the last quarter.
"If you look at private consumption, this is still very modest given the labour market situation in various European countries, which is not very positive for consumption."
High unemployment
Figures also released on Thursday showed a rise of 61,000 in unemployment benefit claims in Spain in August, as short-term summer contracts began to expire.
This followed four months of falling claims, but was entirely expected as the summer tourism season comes to an end.
The Spanish unemployment rate remains at about 20%.
Figures released earlier this week showed unemployment in the wider eurozone remaining stubbornly high at a record rate of 10%.
This is slightly higher than the 9.5% unemployment rate in the US.
High unemployment is undermining the global economic recovery, analysts say.