Pernod Ricard in marketing push for higher drink sales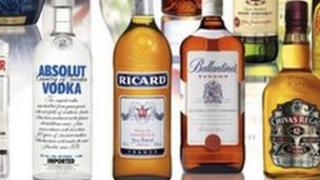 Pernod Ricard, the French drinks giant, says it will embark on a marketing campaign to encourage people to drink more of its products.
The company, the second-largest spirits group after Diageo, saw net profit flat for the year.
The company made 951m euros (£792m, $1.2bn), compared with 954m euros the year before.
Pernod Ricard, whose brands include Absolut Vodka, says it will concentrate on cutting debt and boosting sales.
Consumers in Spain, Greece and Ireland are shying away from premium priced brands as the economic downturn has hit hard in these countries.
This has been offset to some extent by developing markets in China and Latin America, where the company's Martell cognac and Chivas Regal scotch have proved popular.
Pernod also owns the Mumm champagne brand, which was the worst performer out of its top 14 brands.
Pernod Ricard's chief executive, Pierre Pringuet, said he was pleased with the results: "Our performance over the 2009-10 financial year was a strong and sound one."
Rival Diageo's results last week forecast slightly higher profits growth this year, driven by developing markets, but said the strength of the economic recovery was variable and its rate of improvement would depend on it.