No new jobs being created, recruitment firm warns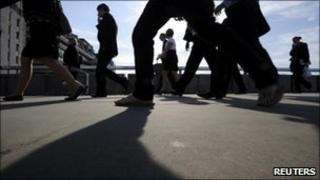 The UK's largest recruitment company has said that although businesses are replacing employees who have left, they are not creating new jobs.
Alistair Cox, chief executive of Hays, told the BBC the current job market was about "job churn".
His comments came as Hays reported an 80% drop in annual profit to £29.7m.
Mr Cox had previously warned that the private sector will not be able to absorb the thousands of public sector workers expected to be laid off.
"At the moment most of the demand for jobs is simply organisations replacing employees who've left. So it's really about job churn at the moment," he told BBC Radio 4's Today programme.
"Candidates are confident enough to change jobs, but we're not seeing new jobs being created as such."
But he added: "That's very different to a year ago where frankly if people left an organisation, nine times out of 10 they would not be replaced."