Zara launches online retail store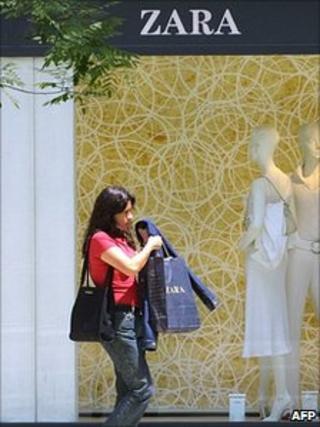 Spanish clothing retailer Zara has opened its new online store in France, Spain, Italy, Portugal and the UK.
The group already sells a home range online, but its revamped website will offer fashion lines which have only been available in its stores until now.
The push into cyberspace is seen as a defensive move that comes amid fears of a decline in High Street spending.
H&M will follow in the next fortnight; Gap began online sales for the first time outside the US last month.
Consumer confidence is waning and many fear a further economic slowdown. Online fashion sales, meanwhile, are proving resilient.
At rival Next, for instance, first-half sales in stores fell 1.5%, while its home shopping business saw sales rise 7.8%.
Further strength in internet trading has been reported by Asos, the online market leader, which said sales rose 54% during the January-to-March quarter when compared with the same period a year earlier.
Online growth
Online retail sales have boomed as more people get high-speed internet connections and time-pressed shoppers take advantage of shopping from home or work, according to industry observers.
Shopping on the net is expected to see sales grow to £94bn ($144 bn) in Western Europe by 2014, from £56bn in 2009, according to consultants Forrester.
But online sales still only make up a small proportion of total sales. In the UK, only 8% of total sales in July were made online, according to the Office for National Statistics.
"Shops that don't have an online presence have noticed rival stores enjoying a dramatic increase in online sales, while their sales in shops have been pretty flat," according to Jeremy Baker, professor of marketing at the ESCP business school.
Complement to existing stores
Zara's online shop will soon be followed by H&M's online shop, which will go live on 16 September.
Gap and Banana Republic are already there, having opened their online operations outside the US for the first time, on 26 August.
Online stores add to rather than cannibalise physical stores, hence they tend to bring in additional sales, according to industry observers.
"There is clearly demand for Zara product online," said Simon Chinn, retail consultant at Verdict Research.
"It will comfortably complement its extensive store estate, adding an extra level of service for its customers."
Rapid growth
Online retail sales are set to double in next three years
Zara is "liked" by more than 4.5 million people who have signed up as fans on Facebook. The key now is to convert those fans into customers.
Inditex, Zara's parent company, has overtaken Gap as the world's biggest clothing retailer by sales. Inditex chief executive, Pablo Isla, said: "Customers should expect the launching of online selling for the group's other brands in coming years."
The success of retailers such as the dedicated online fashion site Asos hints at how rapid the migration of sales from traditional stores to the internet is, especially among the 18-34 age group.
Zara made a small profit in the year to the end of January 2010, after recording a sharp loss during the previous year. It is hoping to see a 10% rise in revenue linked to its online store.