Credit card debt is hitting banks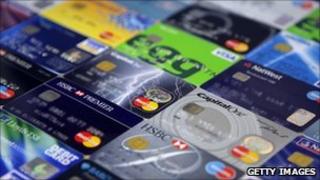 Banks have written off a record amount of credit card debt despite charities reporting a fall in the proportion of calls from worried borrowers.
Figures from the Bank of England show that the amount of money being written off by credit card lenders hit a high in the second quarter of 2010.
The value of write-offs jumped to £2.1bn in April, May and June, up from £1.3bn in the first quarter of 2010.
Lenders write off debt if they conclude that borrowers are unable to repay.
Separate data shows that many people have looked to pay off debts recently.
Changes
Last year, a record £4.1bn was written off by credit card lenders, about 10% of all the money lent on credit cards. That total looks likely to be exceeded by a wide margin this year.
However, the suggestion from charities is that, with a smaller proportion of calls this year, fewer people are facing critical credit card debt. But the latest Bank of England figures suggest that those who do face such debt are less likely to pay it back.
This may be the result of a loss of a job or shorter working hours hitting their income.
The Money Advice Trust - which runs the National Debtline - said that less than 60% of its callers were facing credit card debt problems, compared with between 66% and 70% in recent years.
However, this remains one of the largest debt problems, alongside overdrafts.
Citizen's Advice said it had seen a slight dip in consumer credit debt inquiries, for "the first time in a long time", in the three months from April.
Charity Credit Action said people should keep their lender informed of any payment plans they come up with after talking to debt charities.