Channel Tunnel in German high-speed train test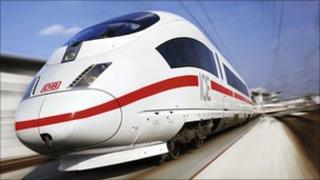 The German railway, Deutsche Bahn, says it will test a high-speed train in the Channel Tunnel between France and Britain sometime around 19 October.
Currently, only Eurostar is allowed to operate trains on the route and the move could widen rail competition.
Eurostar is owned by railways in the UK, France and Belgium, which are responsible for running the service in their own territory.
The German railway has asked repeatedly for access to the tunnel.
A profitable route for its high-speed ICE trains could be between the financial centres of London and Frankfurt.
Deutsche Bahn is also interested in expanding its network elsewhere in Europe, including a possible service from Frankfurt to Lyon and Marseille in southern France, but has met resistance from the French national railway SNCF.
Meanwhile, Deutsche Bahn recently completed its takeover of the British company Arriva, which operates buses and trains across 12 European countries, for 1.8bn euros ($2.3bn; £1.49bn).
On Tuesday, the French and German transport ministries released a joint statement saying they had agreed to work together on changes to European rules covering rail and air transport.
As well as Germany's national rail services, Deutsche Bahn runs Chiltern Railways and rail freight services in the UK.