Hawk-Eye firm lined up for sale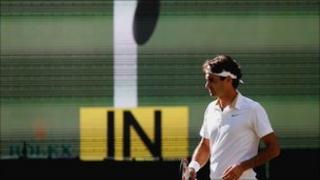 The British company behind the Hawk-Eye ball-tracking technology is to be put up for sale.
Its owners, who include Mark Getty, a member of the wealthy US business dynasty, want to attract a big company that can help the firm expand.
Hawk-Eye is currently used in tennis and cricket and its owners are hoping Fifa will adopt it in football.
Shareholder Patrick Maxwell told the BBC that the sale process would begin next week.
Despite its high-profile brand name, Winchester-based Hawk-Eye is a relatively small company with profits of £1.1m this year.
Its current shareholders hope that investment from a larger firm could help it expand geographically and into new sports.
Mr Maxwell said it hoped to attract interest from companies such as major broadcasters and sports rights firms.
"Potentially, it could also be a vehicle for sponsorship for the likes of financial services companies," he told the BBC News website.
It expects to make a profit of £1.8m next year, reflecting expansion in the tennis world in particular.
Profits could really take off if football decides to use its technology and Mr Maxwell said he was increasingly hopeful that world governing body Fifa would start testing it.
"The stars are in alignment for that," he said.
"Particularly as a result of [events at] the World Cup, which really changed the debate."
Calls for the introduction of goal-line technology increased after the tournament in South Africa when England's Frank Lampard had a goal disallowed against Germany.
Cricket-lover and majority shareholder Mark Getty became involved in the company four years ago when his company, publishers Wisden, bought Hawk-Eye.