Alliance Boots to dissolve one of its pension schemes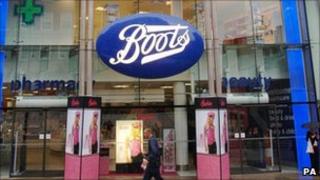 The drug company Alliance Boots is dissolving one of its two final-salary pension schemes.
It is instead paying an insurance company, the Pension Insurance Corporation, to take on responsibility for paying the pensions.
The scheme being dissolved is that of Alliance Unichem, the company that merged with Boots in 2006 to form Alliance Boots.
The company said the deal would "ensure long term security" for the members.
Its aim is to relieve the employer of any potential rise in the cost of paying for its employees' pensions, either because of poor investment returns in the future or because of unexpected increases in life expectancy.
Neil Cross, chairman of the scheme's trustees, said: "This is an excellent result for the scheme's beneficiaries."
Additional funding
A spokeswoman for Alliance Boots refused to say how many people would be affected or how much it was paying to put its plan into effect.
However the Alliance Unichem scheme has about 3,000 members with liabilities of about £300m.
"Alliance Boots has provided additional funding to enable this to take place," it said in a statement.
"The trustees have written to all members to explain the insurance arrangements, including the subsequent issue of individual insurance policies.
"Members' benefits are otherwise unaffected and when all have been secured, the Alliance Unichem UK scheme trust will be dissolved," the statement added.
Both this scheme, which closed to new joiners in 2002, and the larger Boots scheme, were closed to future accrual on 1 July this year.
All staff are now offered membership of a defined contribution scheme instead, whereby the size of the pension is entirely based on market values, rather than being linked to the size of your salary.
More secure
Martin Hunter, of actuaries Punter Southall, said the plan proposed by Alliance Boots would make the pensions of the members more secure.
"This is because most pension scheme members have to rely on the continued existence of the company backing their scheme to ensure they continue to receive their pension in full," he said.
"If the company becomes insolvent the scheme may fall into the Pension Protection Fund, with members losing some of their benefits as a result.
"Insurance companies have to hold capital reserves, so they have a lower chance of becoming insolvent than most other companies," Mr Hunter added.