US and China manufacturing growth eases concerns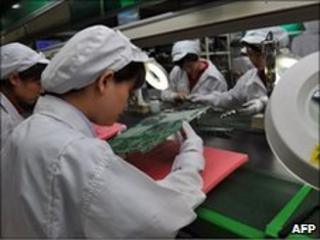 Manufacturing growth in the US and China improved in August, helping to boost global stock markets.
The US sector expanded for its 13th straight month in August, according to the Institute for Supply Management.
And China's purchasing manager's index, or PMI, has revealed its first gain in four months.
China's growth raised hopes that it will increase consumption of US exports, and help sustain America's economic recovery.
In America, the Institute said that its manufacturing index rose to 56.3 in August, up from 55.5 in July.
A reading above 50 indicates growth.
US factories have seen rising demand for exports and also from businesses that are renewing capital equipment and re-building stocks.
Meanwhile, China's PMI, which measures manufacturing growth, rose to 51.7 in August from 51.2 in July.
A separate HSBC survey also showed a rise, reaching a three-month high of 51.9 in August from 49.4 in July. Anything above 50 shows an expansion.
The data from the US and China helped lifted stock markets, with the Dow Jones closing 2.54% higher and London's FTSE 100 2.7% better.
However, the benchmark Shanghai Composite Index fell despite the positive news.
The market fell 15.92 points, or 0.6%, closing at 2,622.88.
Commentators have suggested the drop was caused by continuing concerns about slowing Chinese economic growth in the long term.