Australian economy picks up pace to three year high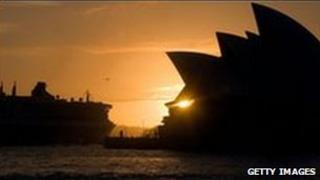 The Australian economy grew at its fastest pace in three years in the second quarter of the year.
The growth was fuelled by demand for the country's iron ore and other commodities, mainly from China.
The figures released on Wednesday showed gross domestic product (GDP) expanded 1.2% in the April-June quarter from the previous quarter, compared with 0.7% in the first quarter.
Australia has gone for 19 years without suffering a recession.
It was hit by the recent global downturn, but less hard than most other developed countries.
Australia came through the crisis better than most other developed countries, although it still needed a stimulus package of 42bn Australian dollars ($38bn; £24.6bn).
Economists hailed the GDP figure.
"It's a fantastic result - the economy is as strong as an ox," said Brian Redican, a senior economist at Macquarie. "It was also well balanced, with household consumption much stronger than anyone thought."
He added that the figure meant there was now very little chance of a cut in interest rates.
Investors had thought there might be cut in interest rates at some point in the near future, as inflation had been cooling.
Rates have been on hold at 4.5% since May.