US decides against China currency investigation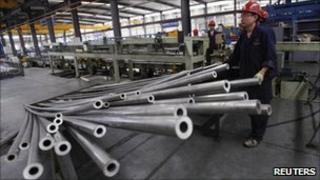 The US government has decided to drop a general investigation of China's currency policy, avoiding a major trade dispute.
However, it ruled that more than $500m (£325m) of aluminium imports had been unfairly subsidised.
The US will retaliate with duties of up to 137% on the relevant products.
The Commerce Department had been asked by US manufacturers in April to look at Chinese exports of aluminium goods used in car production and construction.
The main point at issue was whether China unfairly subsidised its exports by manipulating its currency.
Many economists and politicians in the US allege that China holds the value of the yuan down, making its exports artificially cheap.
If the broader currency investigation had gone ahead, this could have led to serious diplomatic tensions with China, analysts say.
"Today's currency decision was based on a careful evaluation of the specific legal arguments and evidence," the Commerce Department said.
'Currency manipulator'
The decision suggests that Barack Obama's administration will continue to use diplomatic means to encourage Beijing to strengthen the yuan, instead of adopting open confrontation.
However, the US president is under pressure to come up with a new plan to turn the flagging economy around before mid-term elections in November.
Many Congressmen want to pass legislation paving the way for retaliatory sanctions.
In July, US Treasury Secretary Tim Geithner released a postponed report into China's currency policy which avoided labelling the country a "currency manipulator".
That accusation would have provided a basis for efforts within the US Congress to pass punitive trade sanctions against China.
Shortly afterwards, China responded by allowing the yuan to strengthen gradually against the US dollar.
But the Chinese currency has gained less than 0.5% in value since then.
Moreover, recent trade data has shown the US running enormous trade deficits again - and China running surpluses - despite the US economy remaining weak.