Electricity bills: EDF raises Autumn prices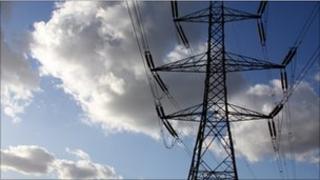 EDF Energy has raised electricity prices for some customers by 2.6%, blaming increases in distribution and transmission costs.
The price rises will take effect from 1 October and only in certain regions, affecting a minority of customers.
Audrey Gallagher of watchdog Consumer Focus said the price rises were "not warranted".
"For months they have failed to pass on significant cuts in energy wholesale prices," she said.
The firm claimed that the move would result in an increase of an average of less than £1 a month on an affected customer's bill.
Regional competition
Ann Robinson of price comparison website Uswitch told the BBC that the price rises were a "correction" required by energy regulator Ofgem.
"Ofgem made it a new licence condition that differences in regional pricing had to be cost reflective," she explained.
Prior to the ruling, EDF and other suppliers had been undercutting competitors' prices in regions where they were not incumbent, in order to win new business.
EDF is now bringing pricing in those regions into line with the higher prices it charges in its home regions where it is the dominant supplier.
"[We] have made every effort to minimise the size and impact of this price increase," said EDF's Martin Lawrence.
Low-income households who qualify for Energy Assist will be given £12 credit so they are not any worse off after the changes.
The price increase affects 1.2m customers with standard meters in the following areas: Eastern, East Midlands, West Midlands, North East, North West, North Wales, South Wales, North Scotland, South Scotland, Southern and Yorkshire.
Economy 7 meter customers in London, South East and South West will also be affected by this price change.