Keydata: 'Rescue package' offered by former boss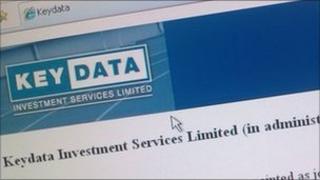 The former boss of the insolvent investment company Keydata, Stewart Ford, has offered a loan of £13m to stop its investments collapsing.
About 23,000 Keydata customers have £350m invested in bonds issued by a Luxembourg company called Lifemark.
The investments in the bonds, made up of second-hand life insurance policies, are at risk because Lifemark may run out of cash to keep up the premiums.
Mr Ford says his consortium's loan can keep Lifemark going for three years.
"The essence of the proposed deal is to provide financial support to the Lifemark portfolio for the next three years to ensure it becomes self-financing and capable of paying out as originally promised to investors," said Jack Irvine, a spokesman for Mr Ford.
"There is some £847m in value to be realised, providing premium payments on the existing portfolio of life policies are maintained to their maturity.
"The average age of the original policyholders is more than 84, their average life expectancy is no more than four years and the total premium cover required to maintain the existing portfolio is in the region of £19.6m per annum," he explained.
"As mortalities inevitably occur, the cash assets within the Lifemark portfolio will increase and the cash liabilities will decrease," Mr Irvine added.
Staying afloat?
The loan and an associated "restructuring plan" have yet to be finalised, but should be ready "in the next few weeks", Mr Irvine said.
Last week Mr Ford allowed the administrator of Lifemark, Eric Collard of accountants KPMG, to start selling £7m worth of the second-hand life insurance policies. These had been pledged to Mr Ford in return for a loan he made to Lifemark last year.
The cash being raised should keep Lifemark afloat until November this year.
This September, investors in Keydata's Lifemark polices will learn if the UK's Financial Services Compensation Scheme (FSCS) will be able to repay them any of the money they fear they have lost on their investments.
Keydata was shut down by the Financial Services Authority (FSA) in June 2009 because it was deemed to be insolvent.
Since then it, and its management, have been the subject of an enquiry by the FSA and the Serious Fraud Office.
After the FSA stepped in last year, other Keydata investors, whose money was in bonds sold by another Luxembourg firm SLS, were told that their money had been stolen by the now deceased owner of SLS, David Elias.
Some of those investors have been repaid some of their loses by the FSCS.
However, the Lifemark investors have been in limbo since last year with the regular income from their policies stopping and the value of their underlying investments in severe doubt.
Earlier this month the Norwich & Peterborough building society, which sold Keydata policies to 3,500 customers who were mainly pensioners, was told by the Financial Ombudsman Service (FOS) to repay a Suffolk couple £28,000 because it had mis-sold them a Keydata policy.