Carrefour profits from price cuts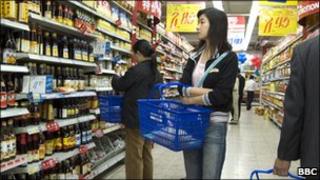 French retailer Carrefour has announced it made a 67m-euro ($85m; £55m) net profit in the first half of the year.
The result compares with a net loss of 48m euros in the same period last year.
Carrefour, one of the world's largest retailers, has been cutting prices to try to attract cautious consumers in its key markets of western Europe.
Since chief executive Lars Olofsson took over the company it has also been concerned with expanding its 40% market share in France.
With sales of more than 43.7bn euros in the first half of the year, Carrefour is the world's second biggest retailer behind Wal-Mart in revenue terms.
'Planned results'
Carrefour has introduced more budget-oriented price ranges and in-store baby-sitting services to encourage shoppers back into stores.
The company says its turnaround plan to improve underperforming stores in western Europe is on track.
"Our transformation plan is delivering planned results and makes us confident of achieving our 2010 objectives," chief executive Lars Olofsson said in a statement.
Consumers became more cautious in their spending habits as recession took hold. Many companies are concerned that government austerity measures will further weaken demand.