Putin to intervene in Norilsk Nickel dispute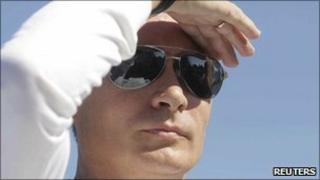 Russian Prime Minister Vladimir Putin has met two tycoons in an attempt to end their dispute over the world's largest nickel and palladium producer.
Oleg Deripaska's Rusal and Vladimir Potanin's Interros are the main shareholders in Norilsk Nickel.
The two sides have been at war since Rusal lost a seat on Norilsk's board at the shareholders' meeting in June.
Mr Putin said on Monday that the government "will do something" if the shareholders fail to end the dispute.
"I do not care which of the shareholders has a controlling stake or in what proportion," Russian news agency RIA Novosti quoted Mr Putin as saying.
"The main thing is that they solve the problems of the company."
'Working on problems'
On Tuesday, Mr Putin flew to the northern Russian city of Norilsk, where the firm's largest operations are located.
Mr Deripaska also flew to Norilsk separately in his own private jet. His press service said that the oligarch's plane was initially not allowed to land at Norilsk airport, which is controlled by Norilsk Nickel.
Later the press service reported: "Thanks to a public campaign and interference from state agencies, Oleg Deripaska's plane was allowed to land in Norilsk."
At the meeting attended by the tycoons and officials, Mr Putin said: "Shareholders, management and the government have been working on the company's problems and it seems to me there is some movement forward."
Mr Putin's spokesman said that the prime minister was not going to meet Mr Deripaska and Mr Potanin separately.
Mr Putin also said at the meeting the Norilsk plant must modernise or face large fines.
Rising demand
Meanwhile, Rusal, the world's leading aluminium producer, reported a net profit of $1.02bn (£661m) for the April-June period, compared with a $230m loss a year ago and a $247m profit in the first quarter this year.
Rising global demand and increasing aluminium prices helped the company to return to profit this year.
"Continued recovery in global markets should generate good opportunities for growth in demand for aluminium, as it is a base metal required to support key industries and growing economies," Mr Deripaska said in a statement.