US consumers spend more and save less in July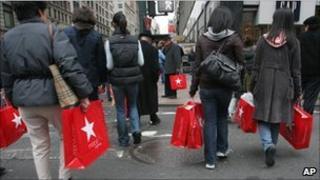 US consumer spending rose by a faster-than-expected 0.4% in July, as shoppers saved less of what they earned.
Personal income, however, grew only 0.2%. Economists had expected both numbers to rise by 0.3%.
Meanwhile, a regional manufacturing survey for Texas showed zero growth in August, confirming a nationwide slowdown in industrial output.
Wall Street was underwhelmed by the data, with the Dow Jones dropping some 0.7% by lunchtime.
Saving versus spending
The growth in consumer spending was the fastest since March, though total spending still remains well below its pre-recession highs.
However, the fact that personal income grew more slowly means that the savings rate in the US - the percentage of income that households choose not to spend - fell slightly, to 5.9% from 6.2% in June.
Before the global recession, the US savings rate was close to zero, meaning that households spent nearly all they earned.
It rose during the recession, however, resulting in a big fall in consumer spending.
Many economists expect the savings rate to remain at 6% or rise even further. Historically, the savings rate has been even higher - at 8%-12%.