Kate Moss and Topshop to end design deal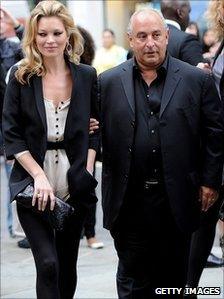 A three-year design partnership between Kate Moss and Topshop is to end later this year.
When the supermodel unveils her autumn and winter range in October - it will be her 14th and last collection for the chain.
Ms Moss began working with Topshop through her friendship with the firm's boss, retail tycoon Sir Philip Green.
Both parties deny any rift, with Sir Philip saying the model had "other commitments".
"It has been fantastic for us and fantastic for her, but [the designs] take more and more time and she cannot do this full-time any more," Sir Phillip told The Times.
It is thought that Ms Moss, 36, has made at least £3m from the ranges - many of which proved popular with Topshop customers.
When Ms Moss's designs were first unveiled, thousands of people queued up outside Topshop's Oxford Street flagship store, leading newspapers to dub the event "Moss mania".
And Ms Moss was present alongside Sir Philip at the opening of his flagship US store in New York last year as well as its Knightsbridge outlet in west London in May.
The tie-up was the first in the long line of celebrity deals, with H&M subsequently hiring Stella McCartney, Madonna and Karl Lagerfield to design for them.
David Shaw, an author and lecturer in fashion business, told the BBC that the news of the split was not a shock.
"Everyone was quite surprised it lasted so long. Topshop is notorious for quick change. It brings in brands and loses brands," he said.
"Celebrity brands tend to have a product life-cycle and where they go well, they go very well."
He added that customers may have had a little "fatigue" with the designs.
"There's very few celebrity endorsements which have lasted," he said.
"It's just tiredness of an old format but Kate Moss has done well. She's still on the front page of Vogue. She's still holding her own."
Related Internet Links
The BBC is not responsible for the content of external sites.