Sanofi-Aventis makes $18.5bn Genzyme bid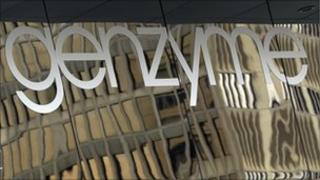 French pharmaceutical group Sanofi-Aventis has made a $18.5bn (£11.9bn; 14.5bn euros) cash bid for biotechnology firm Genzyme.
Sanofi's interest in the US-based firm emerged earlier this month, but this is its first formal offer.
But Sanofi did not go straight to Genzyme's investors, making a formal approach to the company's board.
Genzyme, which employs about 11,000 people worldwide, researches treatments for a range of serious illnesses.
The offer has been made at $69 per share but observers expect Genzyme to hold out for a higher bid.
Sanofi is France's fourth-largest company by market value.
If the deal went ahead, it may become the biggest corporate swoop on a US firm by a French group since media conglomerate Vivendi's purchase of Seagram in 2000.