Central banks may face further tasks, says BoE's Bean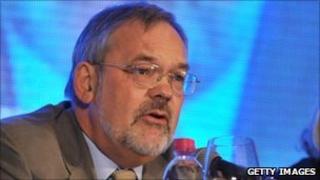 Central banks may have to provide more economic support amid a fragile global recovery, the deputy governor of the Bank of England has warned.
Charles Bean said policymakers had prevented a financial market collapse but further action might be required.
He was speaking at the Economic Policy Symposium in Jackson Hole, Wyoming.
At the same event, US Federal Reserve chief Ben Bernanke set out "unconventional" policy options to boost the US economy.
The event, which attracts leading central bank figures, is this year focused on monetary policy lessons from the recent crisis.
'Emergency Use Only'
Presenting a report to the conference, Mr Bean said that the Bank of England had been unable to prevent the crisis because its powers - primarily the setting of interest rates - were not powerful enough.
He also hinted that there may be a need to increase so-called quantitative easing - the pumping of new money into the economy.
"The deleveraging process is incomplete, the recovery remains fragile and a considerable margin of spare capacity is yet to be worked off, while further policy action may yet be necessary to keep the recovery on track," he said.
But he added that "normal times will surely return in due course".
Mr Bean also said that government purchase of securities - such as bonds and shares - was an effective way for central banks to ease financial conditions in a crisis.
However, he insisted that adjustments to interest rates should be used in normal times, with asset purchases "best kept in the locker marked For Emergency Use Only,"
Bank reserves
Later this year, the coalition government will unveil details of new powers for the Bank to try and head off any future crisis.
And Mr Bean used his speech to set out examples how these could underpin "macro-prudential policy" under the Financial Regulations Bill.
These included forcing banks to build up reserves in good times to help them weather downturns, and imposing restrictions on how much money mortgage lenders would provide.
"With an additional objective of managing credit growth and asset prices in order to avoid financial instability, one really wants another instrument that acts more directly on the source of the problem," he said.
"That is what macro-prudential policy is all about."
Mr Bean's speech came after data showed that the UK economy grew by more than initially thought in the second quarter of 2010, boosted by a strong performance by the construction sector.
The economy grew by 1.2% in the quarter, the Office for National Statistics (ONS) said, revising up its initial estimate of 1.1% growth.
That was the fastest rate of quarterly expansion recorded since the first three months of 2001.
But most economists do not expect this level of growth to continue.
Meanwhile, the US Commerce Department revised down its growth estimate for the second quarter.
It now says the US economy grew at an annual rate of 1.6%, down from its first estimate of 2.4%.
Of the policy options set out by Mr Bernanke, top of the list is more quantitative easing.