Uninsured drivers 'cost other motorists £1.25bn'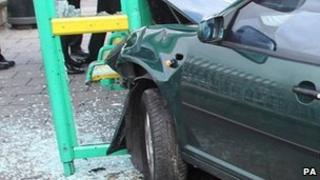 Uninsured and fraudulent drivers cost other motorists £1.25bn every year, an insurer has suggested.
The average UK driver pays about £50 extra on their premiums as a result, Co-operative Insurance has said.
It said premiums reflected costs incurred by firms - including payouts to more than 23,000 people killed or injured by uninsured drivers each year.
About one in every 20 UK cars are driven without any insurance, according to the Automobile Association (AA).
According to the AA's latest data, premiums rocketed by more than 11% between April and June
That was the the biggest increase in the survey's 16-year history.
AA president Edmund King recently put the rise down to a "21st century wave" of fraudulent behaviour - including claiming for non-existent personal injuries and providing false information.
A spokesman said: "Desperate times may lead people to desperate measures but defrauding insurance companies is not a victimless crime because it affects all honest drivers."
'Dangers'
The Co-op figures on the cost to motorists came as it launched an initiative with road safety charity Brake to encourage young people to become responsible road users.
"Millions of people are deliberately flouting the law by not insuring their cars at massive cost to honest road users and the wider insurance industry, posing an unnecessary and unjustified risk," said Tim Franklin, chief operating officer at Co-operative Financial Services.
"Whilst work is continuing to highlight the dangers of uninsured drivers - and keep them off the UK's public highways - by the police, road safety groups and the insurance industry, there is clearly more to be done."