Spain's Iberia returns to profit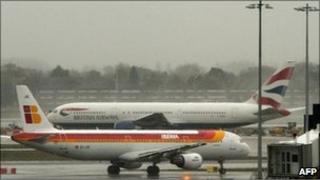 Spanish airline Iberia, which is merging with British Airways (BA), returned to profit in the second quarter of 2010, posting gains of 31m euros ($39.6m; £25.5m).
This contrasts with the 73m-euro loss suffered in the same period of 2009.
The airline said it had reined in costs by 5.9% in the first half of 2010.
It said this had been achieved via "lower spending on fuel, the good results of seat supply cuts, and cost-containment measures".
"The recovery in income was due largely to stronger demand in international markets, and especially in business traffic, but also to heightened sales efforts by the company," Iberia said.
However, the domestic market remained in the doldrums, leading to negative results."
Stephen Furlong from Davy Stockbrokers said: "The company is managing capacity well. South America remains the fundamental growth driver and with improved yields and a healthy revenue stream, particularly on long-haul."
Merger plan
Profits were hit by the discharge of volcanic ash in Iceland that grounded planes across Europe earlier this year.
Even though not all of Spain was affected by the ash cloud - flights from New York to Madrid were still active for example - the partial paralysis was enough to have an impact, causing losses of 20m euros, the airline said.
In April, Iberia and BA signed a deal to merge and create one of the world's biggest airline groups.
The merger, which was provisionally agreed in November last year, is expected to be completed by the end of this year.
The new company will be called International Airlines Group, but the BA and Iberia brands will continue to operate as normal.
The company will have its headquarters in London, with BA shareholders retaining 55% ownership of the company.