Electric cars 'may be costlier than petrol vehicles'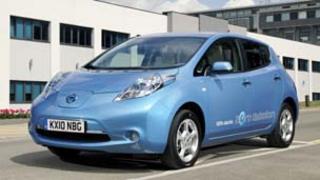 Motorists considering buying an electric car are being warned that they can be more expensive to run than conventional petrol vehicles.
Nissan is due to start taking UK orders for what it says will be the world's first mass-produced electric car.
It says running costs for the Nissan Leaf will be as low as 1p a mile.
But figures given to the BBC by a rival car firm suggest that over three years, electric cars could be more expensive to run than their petrol equivalents.
The figures come from the Japanese car-maker Mitsubishi, which also produces an electric car.
The high purchase price, and the rapid depreciation, are what may make electric cars uncompetitive financially.
The company calculates that running costs for its new i-miev electric car will be higher than for a Fiat 500 1.2, an equivalent petrol car.
Over a three year period, it says running the electric car would cost £10,572, excluding the cost of insurance.
The Fiat would cost £9,339, making it more than £400 a year more economical than the i-miev.
It is not a straightforward calculation.
The cost of charging up an electric car from a domestic supply is relatively low - say between one and two pence per mile.
Servicing costs are also lower than a petrol car, and road tax is free.
And from 1 January next year the government will also give a £5,000 subsidy to each electric car that is purchased in the UK.
But even that may not be enough to tip the overall economics in favour of electric motoring.
Battery fear
Some experts believe the cost of electric motoring will be even higher than the Mitsubishi figures suggest.
The trouble is that the batteries are very expensive, and eventually need replacing.
Jason King, who evaluates second-hand values for Glass's Guide, says depreciation may therefore happen much quicker than people expect.
"There is a fear of the replacement cost of the battery technology as time goes on," he says.
Mitsubishi already admits that its electric i-miev will depreciate by nearly £15,000 in its first three years.
"People have to be mindful of that," says Mr King.
To try and minimise this "battery fear" both Mitsubishi and Nissan will guarantee battery life.
Mitsubishi says its batteries will be guaranteed for 62,500 miles, but should work, at least partially, for up to 100,000 miles.
Insurance costs could also end up being higher for electric cars than for petrol cars.
The Association of British Insurers (ABI) says the relative risks have not been worked out yet.
Lower mileage and the lower speed of electric cars could reduce the premiums for their drivers.
But if the drivers are shown to be any more vulnerable in accidents, or if the theft of batteries becomes a problem, premiums could end up being higher.
The London effect
The economics of electric motoring begin to look very different if you happen to live or work in London.
Those in electric cars will not pay to come into the congestion zone, and for many people that would mean saving more than £1,000 a year.
Many London boroughs, including Westminster, also offer free parking.
"It's free parking within pay and display bays," says Amanda Weaver of Mitsubishi.
"Also the environmental benefits are paramount."
According to the company's figures, anyone using the London congestion zone regularly could expect their motoring costs to be nearly £5,000 less over three years than with a petrol car.
But no other city in the UK has a congestion zone.
Over-charged?
Matt Saunders, a journalist on Autocar magazine, knows more than most about the practical and financial issues of driving an electric car.
He drove an electric version of BMW's mini from Brighton to Glasgow, a considerable feat given the lack of charging facilities en route.
He believes that electric cars are just not practical for most people at the moment, unless they want to make a point about the environment.
"If you're looking for a good sensible purchase and value for money, I don't think an electric car makes sense yet," he says.
But in five or 10 years time he thinks the economics will look very different.
Partly that is because emissions regulations will make petrol and diesel engines more expensive.
Meanwhile he does think the Mitsubishi i-miev and the Nissan Leaf will sell in sufficient numbers when they finally go on sale in January.
Nissan claims that 12,000 customers have already expressed interest, so many that it feels it needs to scale back expectations.
"Electric cars are not right for everyone," it says.
But Mr Saunders is optimistic about the response that both cars will get.
"There are enough people who want to be seen as early adopters, who are attracted to the technology," he says.
In the meantime most motorists may well find the financial experience of electric motoring will leave them feeling distinctly over-charged.