Federal Reserve's Ben Bernanke to make key speech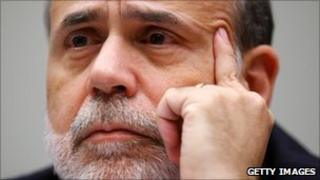 US Federal Reserve head Ben Bernanke is to deliver a key policy speech as the US economy faces a sharp slowdown.
It is hoped he will tell fellow central bankers at the Jackson Hole conference in Wyoming what options, if any, remain to turn the stalling recovery around.
However, further monetary stimulus could face opposition from critics, including colleagues within the Fed.
His speech comes as the US government revised estimated second-quarter GDP sharply down from 2.4% to 1.6%.
Poor data
At the same time, the outlook for the rest of the year has also darkened.
A spate of poor housing and manufacturing data over the summer points to a possible major slowdown in the second half of the year.
Existing home sales fell 27% in July from a year earlier, as a special tax credit for home-buyers expired.
If the sales data translates into further falls in US house prices, this would lead to renewed losses for mortgage lenders and weigh further on consumer spending.
Moreover, regional manufacturing reports over the summer point to a sharp slowdown in industrial production, as a temporary spurt in orders from companies rebuilding their inventories comes to an end.
Mr Bernanke has been criticised from some quarters for showing a lack of leadership since the US economy began to recover strongly a year ago.
His caution may, however, reflect pronounced disagreements over policy both inside and outside the Fed, as well as political considerations.
"In my career, I do not recall a period of time when the Fed has been under as much political pressure," said Dr Ward McCarthy, chief financial economist at Jefferies & Co.
He notes that recent financial reform legislation places the Fed under greater political scrutiny, and had threatened to strip the Fed of some powers.
Dissenting voices
As an academic noted for his work on the 1930s Great Depression and on Japan's economic malaise, Mr Bernanke was at the forefront of radical measures to address the financial crisis in 2008-09.
These included cutting interest rates to almost zero, unprecedented emergency lending for banks and so-called quantitative easing - the mass-purchase of debts to hold down borrowing costs.
But his unorthodox policies during the crisis made some colleagues nervous, and - with the economy seemingly in recovery - many began to urge a withdrawal of these measures.
These more hawkish voices include Thomas Hoenig, the head of the Kansas City Reserve, who is hosting the Jackson Hole event.
Mr Hoenig worries that holding interest rates so low for so long could simply inflate new financial bubbles like the housing bubble that precipitated the current recession.
Other critics gathering at the Jackson Hole symposium, including the International Monetary Fund and the European Central Bank, fear the risk of fuelling inflation further down the line, although core US inflation is only around 1%.
Out of bullets?
But with the economy slowing again, Mr Bernanke is under pressure to do more, although it is unclear what more he can do.
Interest rates are already at zero, and cannot be cut further.
The Fed has bought up $1.25tn of mortgage debts in order to hold down borrowing costs for homeowners, yet the US housing market seems set for another downturn.
On 10 August, Mr Bernanke said that the income earned from these investments would be reinvested in US treasuries, meaning the markets would remain flush with cash.
"The Fed's decision.. was somewhat controversial," said Dr McCarthy, noting that it could herald further debt purchases by the Fed if the economy continues to slow.
That decision commits the monetary authority to buying about $400bn in Treasuries over the next 18 months.
"It's very important for the market," Dr McCarthy added. "The market will want to get a sense of what other steps may be taken."
Dr McCarthy thinks Mr Bernanke may plan further intervention to support the mortgage market, as well as lending to small businesses.
But he notes that such measures would probably mean the Fed taking more risk on to its own balance sheet.