Merger mania returns to the markets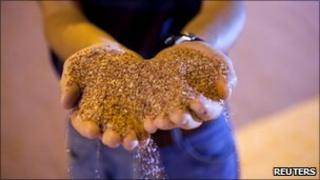 The dog days of summer are an unusual time to see a revival in billion-dollar mega-takeovers.
After a long dry spell, global mergers and acquisitions have totalled more than $200bn (£129bn) in the month of August, according to research firm Dealogic.
And September has started strong with a bid battle looming for the Potash Corporation of Saskatchewan, the world's top maker of fertiliser, Burger King being sold to private equity firm 3G Capital in a deal valued at $3.26bn and Hewlett-Packard raising its offer for the data storage company 3Par to $33 per share, or $2.1bn.
"There's finally some action in the equities markets," Benedict Willis, a veteran broker at Sunrise Securities, told the BBC from his trading post at the New York Stock Exchange.
"The people with the cash who have been sitting on it for two years are deciding that it's time to put their money to use, rather than keeping it under the mattress."
Who benefits?
With so many deals still being negotiated, investors expect to see a steady stream of mergers in the coming months.
Such takeovers tend to mean more business for traders, bankers and lawyers on "Wall Street" - the American reference to the world of finance. But are they as good for "Main Street", or rather, the real economy?
Companies around the world are sitting on piles of cash - at least $3 trillion by one count. And with interest rates near record lows, it makes little sense to keep that money in the bank.
But that does not mean the cash is about to trickle down to ordinary people.
Executives, economists and academics unanimously agree the answer is no. They say mergers are likely to result in job losses, especially in the current economic climate.
Robert Lamb, a businessman and professor at New York University's Stern School of Business, has seen the pattern play out time and again.
"Firing people is the easiest and cheapest way to make back the money spent on the acquisition. Companies feel they can cut their way to greatness," he says.
Professor Lamb, who sits on the board of several firms, says companies that pay more for their acquisitions tend to fire more workers in order to recoup the premium price paid.
In the US, the unemployment rate stood at 9.5% at the end of July. In the 27-member European Union, the jobless rate has held steady at 9.6% throughout most of 2010.
Joblessness has remained persistently high, with companies hiring, but at a slow pace.
Rita McGrath, a professor at the Columbia School of Business, says a wave of mergers will worsen the already gloomy global jobs market.
Bargain hunt
A look at Australian miner BHP Billiton's attempted $40bn hostile takeover of the Potash Corporation of Saskatchewan, the world's top maker of fertiliser, makes clear the financial dynamics at work for many firms.
The cash-rich company has two main ways to expand its business: grow its own operations, or buy existing assets from another firm.
According to Mr Willis, Potash is an attractive acquisition target because its shares are trading at roughly half the value they were two years ago, when commodities prices surged.
He asks rhetorically: "Why would you spend your own money on hiring new workers when you can buy another profitable company for 50 cents on the dollar?"
It is a similar story for Buffalo, New York-based lender First Niagara Financial Group. The bank has agreed to purchase NewAlliance Bancshares, a bank based in Connecticut. The merger is the biggest for American banks since the 2008 financial crisis.
In a presentation to investors, the merger was projected to save between 20% to 25% of annual operating expenses at NewAlliance.
First Niagara has not announced any job cuts, but Prof Lamb says the term "cost saves" is usually code for expected lay-offs.
As for BHP, it is on a charm offensive to persuade Canadian officials to back its hostile bid for Potash. The miner has pledged to maintain jobs in Saskatchewan and New Brunswick for the foreseeable future.
But judging by the history of how mergers and acquisitions affect employment, a bonanza of deal-making is likely to result in fewer jobs all around.