Subdued mortgage market continues, say banks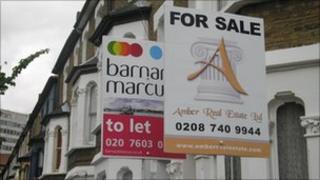 The mortgage market continued its summer slide with a fall in the number of new home loans approved by High Street banks.
There were 33,698 mortgages approved for house purchases in July, down by 877 from the previous month, said the British Bankers' Association (BBA).
This was the second monthly fall in a row, and compared with the high of 45,415 home loan approvals in December.
Consumer credit, especially personal loans, has also stagnated in 2010.
Home loans
Gross mortgage lending by the major banks was slightly below the average of the last six months, at £8.4bn in July, the BBA figures show.
Many people are looking to repay their mortgage while interest rates are low. Net mortgage lending - which strips out these repayments and redemptions - increased by £1.95bn.
This was the second-lowest rise since February 2001, as the market saw a summer lull.
"Gross mortgage lending remains stable, although demand for mortgages continues to be subdued. The greater availability of properties for sale and slowing house price growth have not yet fed through to increased house purchase approvals," said BBA statistics director David Dooks.
Remortgaging rose slightly in July, but from a low base, to 22,790.
The figures came shortly after homebuilder Persimmon reported a tenfold increase in its first-half profits.
It said that after experiencing a strong spring, housing activity had slowed over the "normally quieter" summer period.
But it said that mortgage lending continued to be constrained - a position backed up by the BBA figures.
Quiet market
Since a pick-up in the housing market at the end of 2009, brought about by buyers getting in ahead of the end of the stamp duty holiday, the housing market has stabilised.
Figures from HM Revenue and Customs showed that the number of properties priced above £40,000 that were sold in July stood at 90,000.
This was up slightly on the 86,000 completed sales of the previous month, suggesting that a greater supply of properties for sale has helped put the brakes on prices.
Householders' uncertainty about the state of the economy and their future job prospects has also squeezed buyer demand.
Demand for other forms of credit - namely credit cards and personal loans - has also been light.
Repayment levels on credit cards outstripped new spending, with the number of purchases on credit cards falling back, the BBA said. The £254m of extra borrowing on credit cards in July was the result of accruing interest.
"Consumer credit outstanding continues to reflect high repayments together with pressure on household finances and job uncertainty while companies are tending to retrench and reduce their bank borrowing," Mr Dooks, of the BBA said.
Savings levels rose by £352m in July, lower than the £1.45bn of new savings in the previous month, the BBA said.