Retail sales rise beats forecasts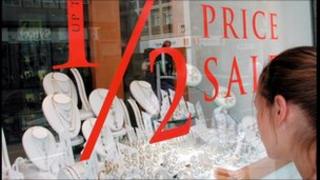 Retail sales in July rose much faster than expected, with almost all non-food sectors showing strong growth.
Sales volumes jumped 1.1% compared with June, the Office for National Statistics (ONS) said. Analysts had forecast a rise of just 0.4%.
That marked the highest month-on-month increase since February.
A broad mix of retailers saw a rise in volumes, including sports equipment and jewellery shops, which offset lower household goods sales.
Sales in food stores fell 1%, while department store sales were flat.
Overall sales volumes were 1.3% higher on a year-on-year basis.
"It doesn't look for now like the slowdown emerging in the rest of the economy has spread to the High Street yet," said Vicky Redwod from Capital Economics.
The British Chambers of Commerce (BCC) said the numbers were "particularly welcome as they come after a good figure in June, which may have been inflated by World Cup-related spending".
"The figures provide an early indication that economic growth will remain in positive territory during the third quarter of the year," commented David Kern, chief economist at the BCC.
"However, there is no room for complacency," he warned. "The full impact of the emergency Budget's austerity measures is yet to take effect."
Richard Hyman, strategic retail adviser to Deloitte, added: "The reality remains that this is a weak market and has every chance of getting worse before it gets better."