Q&A: Unpaid intern - what are your rights?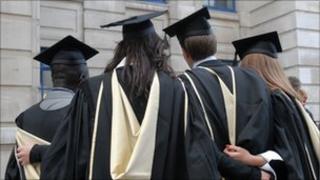 Many volunteers working unpaid for employers could be entitled to wages, according to Kayte Lawton, a research fellow at the Institute for Public Policy Research think tank. She has been talking to BBC News' employment correspondent, Martin Shankleman.
Q: What is the law on people working as unpaid volunteers?
The national minimum wage act is quite clear. Anybody doing work for a company needs to paid the minimum wage.
It doesn't spell out what work is. But if you are doing pre-determined tasks, you're expected to be in the office, you have deadlines and your work is monitored - things like that would all count as work.
Work experience, by contrast, is about shadowing, going to meetings with people, things where you are not contributing to the business of the organisation.
Q: Are there any exceptions to the national minimum wage?
Yes. Apprentices, voluntary workers helping a charity or public body. Nobody else is excluded really.
A lot of employers have the mistaken belief there is a clause that says people who are doing work experience or internships are excluded. But it doesn't say that anywhere in the law.
Q: What about situation where both sides agree the intern will not be paid?
The law is pretty clear, it doesn't matter.
Q: Has this been tested in court?
There was a tribunal at the end of last year in Reading, where someone applied for a job which was "expenses only".
When she got there, she found she was expected to do tasks important for the business. Backed by her union, Bectu, she took the employer to tribunal and won back pay.
Have many employers been abusing internships and unpaid volunteers?
From our understanding, a lot of interns working at the moment would have quite a strong case if they went to tribunals.
It's a question of whether someone wants to take that stand and take the risk.
We are calling on trade unions to seek out good test cases to support people in that process.
Q: Which sectors are you taking about?
The media, fashion, a lot of the creative industries, and politics.
These are all very exciting for young people, and it's where a lot of young people want to be.
Companies can be working on tight profit margins and if they feel they can get away with it, it makes sense for them to get people to work for free.
It also makes sense for companies to take advantage of this at a time when the government doesn't want to enforce the law.
We don't want to have a go at the companies, but there's confusion and they need more advice and support.
Q: What would be the nature of the claim at a tribunal?
The claim would be that the interns or volunteers were workers, and by law they're entitled to the minimum wage for their age.
And you can make the claim for six years in retrospect.
It doesn't have to be the case that you're working for them right now. So perhaps a few months after you leave you can make the claim for backdated pay.
The opinions expressed are those of the author and are not held by the BBC unless specifically stated. The material is for general information only and does not constitute investment, tax, legal or other form of advice. You should not rely on this information to make (or refrain from making) any decisions. Links to external sites are for information only and do not constitute endorsement. Always obtain independent, professional advice for your own particular situation.