UK house prices rose 0.6% in July, Halifax says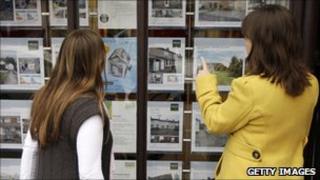 UK house prices have continued to stabilise, according to the latest report from the Halifax.
Prices rose 0.6% in July, the Halifax said, reversing a fall seen in June, but values have changed little since the start of the year.
The annual house price inflation rate fell from 6.3% to 4.9%, with the average property now costing £167,425.
Halifax said that the mixed pattern of prices rises and falls so far this year was "consistent with a slowing market".
It reiterated its view that prices would be "broadly unchanged" over 2010 as a whole.
"The increase in the number of properties for sale over the past few months, boosted by the recent abolition of home information packs, has relieved much of the pressure that was driving up prices in 2009," said Martin Ellis of the Halifax.
After the banking crisis of 2007 and 2008 prices started rising briskly again in the spring of last year, but have been easing off for much of this year.
According to the Halifax, the average house price hit a recent peak in January at just over £169,000 but after falling back slightly since then they are now no higher than they were last November.
The Halifax's survey is showing a very similar trend to that of its rival lender the Nationwide.
Although the building society was less certain about the prospects for house prices this year, when it published its own report last week, its picture for the year so far is very similar to that of the Halifax.
"The Halifax figures confirm that what we are seeing is a stabilisation in the property market rather than, as some have suggested, the beginnings of a sharp correction," said David Smith of property consultancy Carter Jonas.