Trade unions plan co-ordinated protests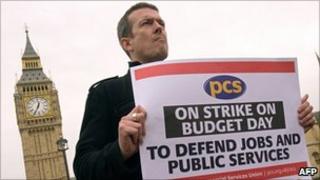 Trade unions are planning co-ordinated protests against the government's plans to slash public spending and cut hundreds of thousands of jobs.
The PCS civil service union is calling for a "day of action" on 20 October, to coincide with the government's Comprehensive Spending Review.
The union also wants the TUC to organise a huge demonstration on 23 October.
The protests will be discussed at the TUC conference next month.
The Scottish TUC is already planning a Scotland-wide demonstration on 23 October.
'Class warfare'
The PCS also plans to protest outside the Conservative Party conference in Birmingham on 3 October.
The prime minister has turned down an invitation to address the TUC conference in Manchester which starts on 13 September, reportedly because he expects to be on paternity leave.
Bob Crow, the general secretary of the RMT rail union, had threatened to lead a walk out when Mr Cameron spoke.
The RMT has tabled a motion at the TUC conference urging "co-ordinated strike action and national demonstrations" against the government's cuts.
Mr Crow said: "The TUC has to be the launch pad for the fight back against the coalition government's decision to launch an all-out class warfare through their unprecedented attack on our communities, public services, welfare state and transport system".
The GMB union wants the TUC to lead a co-ordinated campaign across the labour movement and local communities, claiming 750,000 jobs are at risk.
Unite, the UK's biggest union, is also pressing the TUC, urging it to build a "robust campaign in defence of public services".