ITV to launch HD channels on Sky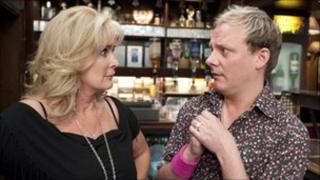 ITV is moving into pay-TV after agreeing a deal to launch high definition versions of the ITV2, ITV3 and ITV4 channels on Sky.
The move is part of an overall strategy to increase revenues from non-television advertising sources.
Chief executive Adam Crozier said ITV needed to change "substantially".
The news came as the broadcaster reported a pre-tax profit of £97m for the first half of the year, compared with a £105m loss a year ago.
ITV1 HD is already available on Freesat, Freeview, Sky and Virgin.
ITV2 HD will launch in October, with ITV3 HD and ITV4 HD launching shortly afterwards.
"Pay television has seen continual growth over the last decade and this deal is a great example of how a new, subscription-based launch can complement ITV's existing free-to-air channels," said Mr Crozier.
The broadcaster also said it would launch an ITV1+1 channel in January 2011.
'Re-shaping economics'
ITV, which was hit by a slump in advertising in the recession, said that advertising revenues were up 18% on the first half of 2009. June was a particularly strong month with the World Cup attracting additional advertising.
But at the same time, its viewing share fell on both ITV1 and across the ITV "family" of channels.
Mr Crozier said that the global television market had changed "beyond recognition" over the last decade, with no real growth in UK television advertising but an expansion in pay-TV subscription services.
"Re-shaping the economics of ITV requires change not only to the strategy but also to ITV's management, culture and organisation," he said.
"Over time, we expect to move to a position whereby around half of our revenue base is derived from non-television advertising sources."
ITV also revealed a five-year transformation plan, which is divided into three phases.
Phase one is to "fix" the business's operational basics over the next 18 months by improving its broadcast performance. This includes the launch of the new HD channels and ITV1+1, as well as the relaunch of GMTV as Daybreak in September.
ITV said phases two and three would see the company "strengthen and grow" and then "accelerate".
'Sorry history'
Matthew Horsman, media analyst from Mediatique, said ITV was dipping "a toe in the water" by putting the high definition channels behind a pay wall.
"We have to remember that ITV has a pretty sorry history when it comes to pay-TV," he said.
"They wasted £1bn of shareholder funds trying to do what was called ITV Digital and it folded in the end.
"This is not a full pay-TV strategy." But he added, "I think there is one coming."