Osborne calls on banks to lend more to companies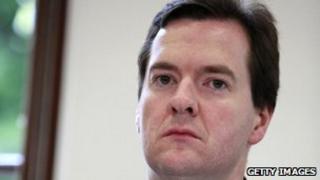 The chancellor has warned the UK's banks that they need to start increasing their lending to businesses.
George Osborne said the government "would not tolerate banks piling the pressure" onto small firms, and that it was their "obligation" to lift lending.
His comments come before HSBC, Lloyds Banking Group, Barclays and Royal Bank of Scotland are all expected to announce substantial profits this week.
The British Bankers' Association said banks knew their responsibilities.
Its chief executive, Angela Knight, said banks had made "repeated commitments to support business".
The government is looking at ways to get banks to increase lending to firms.
This was announced last month by Business Secretary Vince Cable, who unveiled a joint consultation paper with the Treasury containing options to improve cash flow to businesses.Osborne wants banks to lend more
Mr Cable said the Financing A Private Sector Recovery paper could propose targeting bank dividends and bonuses as part of a "carrot and stick" approach to boost lending.
In an interview with the Sunday Telegraph, Mr Osborne said the government "will not tolerate banks piling the pressure" on small firms struggling for credit.
"Every small and medium-sized company that I have visited in recent weeks has had some problem with their bank - either they have found it difficult to renew their overdraft or they demanded additional collateral, often someone's house," he said.
"The danger is that, particularly next year, when there is a huge amount of refinancing required, that the small and medium-sized businesses suffer from a lack of access to working capital."
HSBC reports its half-year results on Monday, followed by Lloyds Banking Group on Wednesday, Barclays on Thursday, and Royal Bank of Scotland on Friday.