Ads for sex industry workers banned from job centres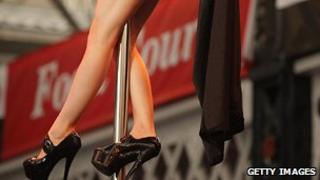 Job centres will no longer be able to carry adverts for jobs in the sex industry under a ban announced by the government.
The curb, which will come in with immediate effect, will cover jobs such as lap dancers and strippers.
The government said this was to prevent jobseekers feeling they had to accept jobs they felt uncomfortable with.
However, adverts for vacancies such as a cleaning job in a lap dancing club would be allowed.
The ban will only affect jobs which could lead to exploitation, Employment Minister Chris Grayling said.
The latest move is in response to a public consultation that the government said revealed "significant public concern" about the advertisement of sex industry jobs in job centres.
Adult industry job adverts have been allowed in job centres since 2003, when lingerie chain Ann Summers won a legal fight to advertise for shop staff.
Figures show that job centres advertised more than 350 jobs in the sex industry in 2008.