Cap on immigrant workers criticised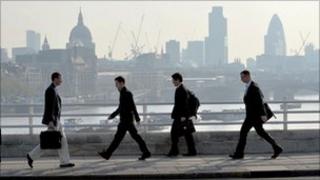 Government plans to limit the number of foreign workers allowed into the UK have been criticised by the Lord Mayor of the City of London.
Nick Anstee said the imposition of a temporary cap on non-EU workers showed a "lack of understanding".
He added that one senior banker from a large Japanese bank had called London a "scary" place to do business because of fiscal and regulatory issues.
The government said firms must rely less on migrant workers.
"The cap is just being arbitrarily allocated to institutions in the City by reference to what has happened in previous years, irrespective of their business needs," the Lord Mayor told BBC Radio 4's World At One programme.
"The difficulty will arise as businesses develop... then that is actually going to stop business coming to London and that is the concern the institutions have. They want flexibility."
He added that there were a "whole raft of measures" that were causing London-based businesses to consider their future in the capital.
'Blunt tool'
The cap on workers from outside the EU is due to come into force in April next year.
A temporary limit was introduced two weeks ago to avoid a last minute rush for permits and businesses are already reporting it is having an impact on them.
One leading City law firm said some of the big firms it represents had been left with either few or no visa allocations for the remainder of the year.
"We have six or seven major international companies whose allocation has been reduced to zero," said Clifford Chance's head of immigration, John Skitt.
"There is one leading international bank whose ability to retain staff whose current visas are due to expire is going to be impacted."
Lady Valentine from lobby group London First described the interim cap as a "blunt tool" that was "stifling" the growth of global businesses based in the capital.
'Implausible'
Immigration Minister Damian Green said that businesses had known about the limit for a month, so it was "a little implausible" that they were expressing concerns now.
Speaking more widely about the issue of immigration caps, he said the debate had been "distorted as though no skilled person will ever be able to come to Britain to work, and of course that's not true".
"We are specifically designing a system that will allow us to have the brightest and the best from around the world, but what as a society we can't continue to do is have that going on in the same numbers that we had under the previous government.
"And it will require adjustment on all sides."
The subject has been centre stage during Prime Minister David Cameron's visit to India this week.
Indian firms have expressed their concerns about the UK's attempts to limit immigration.
Business Secretary Lib Dem Vince Cable attracted attention by saying on Thursday that the cap must be "flexible".
He told the Indian media that he wanted the UK to have "as liberal an immigration policy as it is possible to have", prompting reports of a split in the coalition on the issue.