EDF agrees £5.8bn sale of UK networks to Li Ka-Shing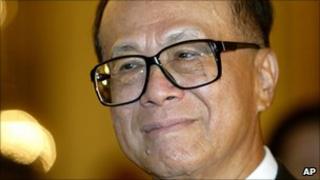 A consortium headed by Hong Kong billionaire Li Ka-Shing has agreed a deal to buy the UK networks of French power group EDF for £5.8bn ($9.1bn).
The group includes his holding company Cheung Kong Infrastructure (CKI), Hongkong Electric, which is 40%-owned by CKI, and the Li Ka-Shing Foundation.
The bid has been mooted for a number of months.
EDF also announced a drop in profits for the first half of the year of almost 50% against a year earlier.
Net profit for six months to the end of June was 1.6bn euros ($2.1bn; £1.3bn), compared with 3.1bn euros in the first six months of 2009.
This was largely due to a provision of 1.1bn euros for risks related to the company's activities in the US.
'Irrevocable offer'
Mr Li is the world's 14th richest man and owns a wide range of interests around the world, including Superdrug in the UK.
He also has stakes in numerous UK utility companies, including Cambridge Water, Southern Water and distributor Northern Gas Networks.
EDF said it had received "an irrevocable offer" from his consortium "to acquire 100% of EDF Energy's ownership in its UK regulated and non-regulated network activities".
This encompasses the infrastructure EDF owns in the UK, such as cables and substations. It is not selling its power generation and supply interests, which means business and retail customers will continue to buy their electricity from EDF.
Last October, the company said it was looking at the possibility of selling its UK electricity distribution business.
It needs to raise funds to reduce its debt levels.
EDF operates about 100,000 miles of cable across London, the South East and eastern England, supplying some eight million homes and about a fifth of the UK's energy.
Rebecca Seabury, from energy analyst Inenco, said: "We would expect that as a new entrant in the electricity distribution industry, CKI will shake the market up, which may lead to increased competition and subsequently reduced prices.
"The energy industry has traditionally been very much vertically integrated between distribution, supply and generation and so we believe the UK power industry will benefit from a new player."