Citigroup agrees $75m fraud fine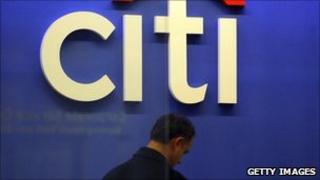 Banking giant Citigroup has agreed to pay $75m (£48m) to settle civil charges that it misled investors over potential losses from high-risk mortgages.
It agreed the settlement with US financial watchdog the Securities and Exchange Commission (SEC).
The SEC said Citigroup had repeatedly made misleading statements about the extent of its exposure to subprime loans as the housing market slumped.
Earlier this month, Goldman Sachs agreed also settled civil charges.
Those charges concerned Goldman's marketing of mortgage investments as the US housing market faltered. Its $550m fine was the biggest the SEC had imposed on a bank.
'No half-truths'
Citigroup had said in 2007 that its exposure was $13bn or less. The SEC said it exceeded $50bn.
SEC Enforcement Director Robert Khuzami said Citigroup had misled analysts and the market of its ability to reduce its subprime exposure.
"In fact, billions more in... subprime exposure sat on its books undisclosed to investors," Mr Khuzami said.
"The rules of financial disclosure are simple - if you choose to speak, speak in full and not in half-truths."
Citigroup struggled during the financial crisis and received among the largest bailouts from the US government.
Of the $45bn it received, $25bn was converted to a government ownership stake last summer, with the remainder being repaid.
The $75m fine will not make much of a dent in bank's balance sheet. It earned $2.7bn in the three months to the end of June.
Citi said it was pleased to have reached agreement with the SEC and that neither the bank not any individuals had been charged with "intentional or reckless misconduct".