Gambling firms Partygaming and Bwin reveal merger plan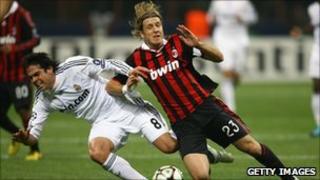 Two gambling firms have unveiled plans to merge and create the world's largest online gaming business.
A tie-up between Partygaming and Austrian firm Bwin would create the world's biggest online player in poker, casino, sports betting and bingo.
The joint business is likely to expand further as it eyes acquisitions among other gambling websites.
Partygaming is a UK-listed firm but is based in Gibraltar where taxes are lower than in the UK.
The new merged business will be 48.4%-owned by Partygaming and 51.6% by Bwin. It will be listed on the London Stock Exchange.
"We will be in pole position to capitalise on the wealth of opportunities that will flow from the continued evolution and expansion of the global online gaming industry," said Bwin boss Norbert Teufelberger, who will be joint chief executive along with Partygaming's Jim Ryan.
The combined group would also look at exploiting opportunities in mobile phones and social media, they said.
Observers suggest that the tie-up could help Partygaming return to the US, following its withdrawal in 2006 when authorities passed laws that prevented the transfer of funds to gambling sites.