'Elusive' Aldi billionaire co-founder dies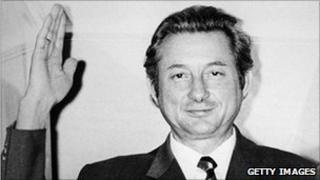 The billionaire co-founder of budget supermarket Aldi has died, aged 88.
Worth an estimated 17bn euros ($22bn; £14.5bn),Theo Albrecht was Germany's second wealthiest man, behind his brother Karl with whom he began Aldi.
The firm's name is an acronym for "Albrecht Discount". It has estimated global sales of 50bn euros.
Described by Forbes magazine as "more elusive than the Yeti", Mr Albrecht was last seen in public 40 years ago after his release from a kidnap.
He was freed after 17 days, following the payment of a seven million deutschmark (3.5m euros) ransom.
But so understated was Mr Albrecht's appearance, that his kidnapper reportedly demanded to see proof that the man he had seized was really the wealthy retail magnate.
'Highly respected'
Although he had passed over control of the business due to illness, Mr Albrecht reportedly continued to attend the firm's office on a daily basis.
"Aldi mourns a person who was always decent with his business partners and employees and always treated them with respect," the firm said.
"We are losing in him our highly respected founder and a upright person."
The Albrechts began running small stores in 1950 in their hometown of Essen.
The first Aldi store opened in the early 1960s under the motto "concentrating on the basics: a limited selection of goods for daily needs".
Known for its no-frills shopping environment and a limited range of discount products it has more than 8,000 stores worldwide including 4,000 in Germany and 1,000 in the US.
"There are only a few people who have stamped their mark on an entire business sector of the economy," said Stefan Genth, managing director of the German Retail Federation
"Theo Albrecht achieved just that."