Procter & Gamble in London 2012 Olympics sponsor deal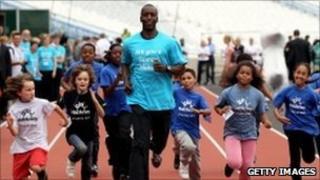 Consumer products giant Procter & Gamble has signed up as a global Olympics sponsor.
The deal with the International Olympics Committee (IOC) makes Procter & Gamble the 11th global sponsor of the London 2012 Olympics.
It joins other 2012 sponsor companies, such as Coca-Cola and McDonalds.
It is the second multi-million-dollar marketing deal this month for the IOC, after Dow Chemical signed as a global sponsor two weeks ago.
Global sponsors have exclusive Olympic worldwide marketing rights.
The value of the contracts are not typically released, but are thought to sell for $100m (£64.5m) for four years' worth of rights.
Procter & Gamble, whose brands include Ariel washing powder, Pampers nappies, Gillette shavers and Pringles crisps, signed a 10-year agreement with the International Olympics Committee (IOC).
The IOC said this year it had secured close to $900m in sponsorship revenue for the current four-year cycle, and was hoping to break the $1bn mark.
Other global sponsors for the London Games so far are Acer, Atos Origin, GE, Omega, Panasonic, Samsung and Visa.
Sponsoring the London 2012 Olympics is not always a multi-million-pound commitment.
Small and medium-sized firms have also been to support the Team 2012 fund, which is looking to raise £25m.
A total of 750 firms are being sought in the hope they will pay up to £10,000 a year each to take part in the two-year programme.
There have been question marks over the financial benefits of sponsorships for companies, particularly debated in the wake of the recent World Cup.
But Procter & Gamble believes the rewards are measurable.
It is already a sponsor of the US Olympic team, a deal which it says has increased the company's image, helped to boost market share and generated nearly $100m in sales.