Telefonica agrees Vivo deal with Portugal Telecom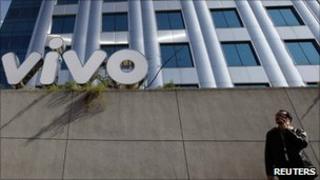 Spanish telecom firm Telefonica has agreed to buy Portugal Telecom's (PT) stake in Brazilian mobile company Vivo, ending weeks of strained negotiations.
No figure for the deal was announced, but reports say the Spanish company will pay 7.5bn euros ($9.8bn; £6.3bn).
Earlier this month, Telefonica said it had pulled out of a 7.15bn-euro bid to buy PT out of Vivo.
The bid had been accepted by PT shareholders, but was blocked by the Portuguese government.
However, the European Court of Justice overruled the government's objections to the deal on the basis that they broke rules on the free movement of capital.
Telefonica is keen to expand in the fast-growing Latin American market, and sees taking control of Vivo, Brazil's largest mobile phone company, as a key element in this strategy.