India increases interest rates again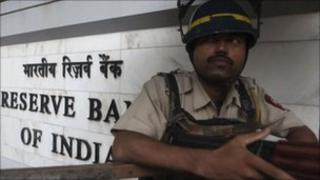 India's central bank has raised interest rates for the second time this month.
The Reserve Bank of India (RBI) increased the rate at which it lends to banks - its repo rate - to 5.75% from 5.5%.
It also raised the rate it uses to suck in excess cash - its reverse repo rate - to 4.5% from 4%, twice the rise that was expected.
The moves are designed to contain stubbornly high inflation.
Indian inflation has been in double figures for five months and is expected to stay there for a sixth, with wholesale price inflation forecast by the government's chief statistician to rise to 11% in July from 10.55% in June.
Rising prices - particularly in food and fuel - have provoked public protests in India and become a matter of political concern.
Food costs have been growing since last year, when the worst drought in 37 years hit farm output.
More rises?
The government moved to raise fuel prices in June, which prompted the opposition to call a one-day nationwide strike this month.
The RBI said in a statement that controlling inflation was now more important than securing economic growth, which is forecast at 8.5% for the year to March 2011.
It said: "The dominant concern that has shaped the monetary policy stance in this review is high inflation. With growth taking firm hold, the balance of policy stance has to shift decisively to containing inflation and anchoring inflationary expectations."
Tuesday's rate rise was the fourth this year and analysts think that there could be more in store.
Kumar Rachapudi, fixed-income strategist at Barclays Capital in Singapore, said: "We think that the market will surely look for another rate hike in September."