Savers facing up to tight returns
Money Talk by David Black
Banking specialist, Defaqto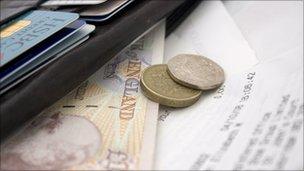 With interest rates at a record low and some of the more generous savings deals having been pulled from the market, savers are finding it tough to get decent returns on their funds.
National Savings and Investment's withdrawal of its tax-free index-linked certificates is very bad news for higher-rate taxpayers because, if the current Retail Prices Index (RPI) rate of 5% is maintained, it offered an equivalent taxable gross return of 10%.
It will be no surprise to anyone who has even glanced at a best buy table that a 10% rate vastly outstrips anything currently available from other deposit based savings accounts.
Speaking recently on BBC Radio 4 Money Box, an NS&I spokesman said that it was unlikely that another issue of index-linked certificate would be available this year, but denied that it had plans for any future issues to track the generally lower Consumer Prices Index (CPI) instead of the RPI.
The Bank rate has now been at its record low of 0.5% for over 16 months - and one economic forecasting group expects it to stay at this level until 2014 - which makes it unsurprising that virtually all deposit-based savings accounts are losing money in real terms based on RPI inflation.
Against this backdrop, are there any strategies that you can adopt to counter the ravages of inflation?
Index-linked gilts are touted by some as a possibility, but they are a rather different animal in that the eventual redemption value (sale price) of the gilt may fall if the inflation rate falls over the term.
Similarly some shares offer high dividend yields but there is no certainty that the dividend will remain at the same level, and, as we know, the share price itself may increase or decrease.
You can alleviate some of the pain by checking that your existing savings account is paying a competitive rate. If it is not then move to an account that is. However, do remember to factor in any withdrawal penalty that may be levied on your existing account.
The highest generally available interest rates at the moment are for the longer term fixed interest rate bonds and, at the time of writing, you can get a gross annual return of between 3.15%, when fixed for one year, and 4.9% when fixed for five years.
Before you rush into a fixed rate there are a handful of things to consider.
Firstly, only deposit funds into a fixed rate bond that you are confident you will not need for the duration of the bond. Early withdrawals tend to be either expensive or are not permitted.
Secondly, just because a rate of, say 4.90%, looks attractive now, it does not mean that it will still do so in two or three years' time.
Thirdly, and this applies to all deposit-based savings accounts, never invest more than £50,000 with any one provider, because this is the limit covered by the Financial Services Compensation Scheme (FSCS).
In practice you are probably better to work to a limit of about £48,000 because that way you should not lose any interest. Also bear in mind that some providers share a licence and the FSCS compensation is per licence and not necessarily per provider.
It might suit some savers to split their funds between a fixed rate bond and an instant or easy access savings account.
Use your cash Individual Savings Account (Isa) allowance as its tax-free status enables the saver to cut out the taxman.
You can invest up to £5,100 per tax year, and, as with normal savings accounts, the highest rates tend to be for longer term fixed rates at the moment. In recent years the highest cash Isa rates have slightly lagged those available from similar non-Isa accounts.
One often overlooked possibility for higher rate taxpayers with some savings and a mortgage is the offset mortgage. This is where money held in savings and current accounts automatically pays down mortgage debt.
The beauty of these is that you effectively earn tax-free interest on your savings at the same interest rate as you pay on the mortgage.
You do not actually receive the interest on your savings because it is offset against the mortgage interest. Bear in mind that offset mortgages can differ, with some enabling you to offset your current account balance as well as your savings.
Despite savings rates being low, many borrowing rates are high, so it may be worthwhile to think about paying off some of your more expensive debt instead of receiving pitiful rates on your savings balances.
The most expensive debt tends to be outstanding balances on store cards, credit cards, unsecured loans and overdrafts.
If you have no unsecured debt then repaying a chunk of your mortgage is another idea, but do check whether any early repayment charge will be levied because it might make it more financially sensible to delay overpayments until the early repayments do not apply.
It is also generally advisable to keep some funds in an instant or easy access savings account for the proverbial rainy day, although some may be happy to use a credit card for the same purpose.
The opinions expressed are those of the author and are not held by the BBC unless specifically stated. The material is for general information only and does not constitute investment, tax, legal or other form of advice. You should not rely on this information to make (or refrain from making) any decisions. Links to external sites are for information only and do not constitute endorsement. Always obtain independent, professional advice for your own particular situation.
Related Internet Links
The BBC is not responsible for the content of external sites.