William Hill makes Gibraltar offshore telephone move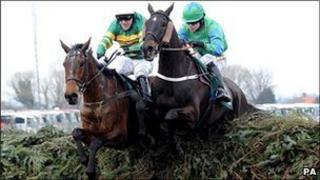 Bookmaker William Hill has said it is to establish a new telephone betting operation offshore in Gibraltar.
It said the move was in response to betting exchanges and offshore telebetting operators, which William Hill says "enjoy tax advantages".
Firms based offshore do not have to pay the Horseracing Betting Levy, which UK-based bookies have to pay in order to take bets on British races.
The firm is also to close a call centre in Leeds as part of the shake-up.
'Significant change'
Another call centre in Sheffield will remain open, although this will now be run by outsourcer Vertex as a customer support centre for customers.
The firm said 150 jobs could be lost across the Sheffield and Leeds call centres, where 400 staff in total are employed.
Meanwhile, William Hill Online will manage telephone customers from Gibraltar.
"This significant change to our telephone business is a response to the challenge of competing with betting exchanges and offshore telebetting operators, all of whom have benefitted from significant cost and tax advantages over UK bookmakers," said Ralph Topping, William Hill chief executive.
"This has made it impossible for our existing business to compete profitably from the UK."
The British horse racng betting levy, a major funding mechanism, has been in decline for a number of years.
In 2009, the yield from the Horseracing Betting Levy shrank by more than 20%, from £115.3m to £91.6m.
And reports predict that the 2010 levy has dropped even further, to £76.5m.
Cost savings
Last week William Hill said strong betting on the recent World Cup tournament had offset losses that it suffered at Royal Ascot.
It also said that it had seen strong growth in its online business and from gaming machines.
It is predicting earnings of about £135m for the first half of 2010.
William Hill expects to introduce the telephone betting changes in the fourth quarter of 2010, with cost savings of £4m to £7m a year from 2011.
It says the cost of introducing the changes in 2010 is expected to be £7m.
The firm's existing telephone betting business made a loss of £1.8m in 2009 and a small operating loss is anticipated for the first half of 2010.
William Hill employs 16,000 people and has more than 2,300 licensed betting offices in the UK and Irish Republic.
The firm is reviewing the future of 50 of 170 unprofitable shops, which could put another 200 jobs at risk by the end of the year.