Indian carmaker Maruti Suzuki shares drop by 12%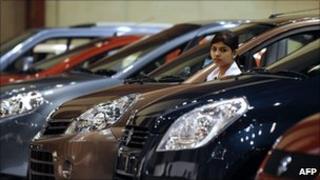 Shares in India's Maruti Suzuki, the country's largest carmaker, have sunk more than 12% after it reported a 20% fall in quarterly profits.
Shares fell to 1,191 rupees ($25; £16), from Friday's close of 1,358 rupees.
Maruti reported a net profit for the three months to the end of June of 4.65bn rupees, far below analysts' expectations.
The main reason for the fall was a rise in royalty payments to Japan's Suzuki, which holds a large stake in Maruti.
Analysts said the increase would also affect the carmaker's future earnings.
"Raw material costs have been easing but the effect of higher royalty payments will be there in the next few quarters," said Jatin Chawla, auto analyst at India Infoline.
Outside of the increased payments to Suzuki, Maruti performed well during the quarter, analysts said.
"The sudden change in royalty charge overshadows an otherwise strong operating performance," said Chirag Shah at Emkay Global Financial Services.