Profile: Bob Dudley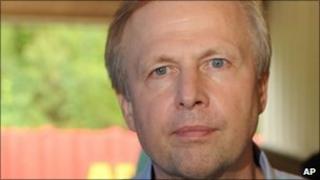 BP's incoming chief executive, Bob Dudley, is an oil industry veteran with 30 years' experience.
Formerly the oil giant's managing director, the American is replacing Tony Hayward following his much-criticised handling of the Gulf of Mexico oil spill.
Mr Dudley joined the board of BP 18 months ago, but his most high-profile role was as the chief executive of BP's joint venture in Russia, exploiting oil fields in eastern Siberia.
He was appointed in 2003 when BP went into partnership with a group of Russian billionaires known as AAR.
The deal was worth $6bn (£3.6bn at the time). Under Mr Dudley, the joint venture increased oil output by a third to 1.6 million barrels per day.
However, Mr Dudley fell out with AAR, who accused him of favouring BP.
The dispute escalated and became increasingly politicised. BP's technical staff were barred from working in Russia by a Siberian court. The security service, the FSB, twice raided TNK-BP's offices in Moscow.
In June 2008, Mr Dudley himself left Russia in haste when his visa was not renewed. At the time, he said he had faced "sustained harassment" from the Russian authorities.
For five months, he attempted to run TNK-BP from an undisclosed secret location outside Russia but resigned in December 2008.
In April 2009, Mr Dudley joined the board of BP with responsibility for the company's operations in Asia and the Americas.
Mr Dudley has been married to his wife Mary for 30 years and the couple have two children.
He has a BA in chemical engineering from the University of Illinois, and also holds an MBA from Southern Methodist University.
He began his career with the oil company Amoco in 1979, moving to BP when it took over Amoco in 1998. He worked in Russia for Amoco, and later oversaw BP's operations in Russia, the Caspian Sea and other areas.
Mr Dudley is widely respected within the company, and from a PR point of view, it might help that he is American, not British.
BP has often been described as "Public Enemy Number One" in the US since the oil spill. Now that the company is to be run by an American, it could help it in its battle to rebuild its reputation in the US.
Better still, he grew up in Mississippi and speaks with the accent of the American South. He knows the Gulf Coast well.
When he was took over the running of BP's Gulf Coast Restoration Organisation in June, the company described him as having a "deep appreciation and affinity for the Gulf Coast".
Tony Hayward, the man he is replacing as chief executive, has described Mr Dudley as "the management team's Foreign Secretary - or perhaps Secretary of State in American terms".
Mr Dudley will need all the diplomatic skills he can muster if he is to repair the damage done to BP's reputation.