Ford's profits hit $2.6bn in three months as sales rise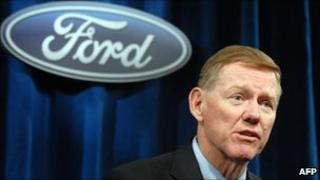 Ford surprised Wall Street with a $2.6bn profit in the last quarter as it continued to take sales from rivals.
America's number two carmaker saw sales growing at almost double the overall pace of the industry, in a sign that it has turned the corner.
Announcing its fifth straight quarterly profit, the once debt-laden company said it was on track to remain profitable in 2010.
Meanwhile, Germany's Volkswagen said sales rose 16% in the first half.
In the three months to the end of June, Ford's revenue rose to $31.3bn from $27.2bn a year earlier, more than analysts' forecast of $29.8bn.
Car sales in the first six months of 2010 rose 28%, almost double the industry pace.
Ford's chief executive Alan Mulally said in the company's statement that it was a "very strong second quarter... and we are ahead of where we thought we would be despite the still-challenging business conditions."
Ford's shares opened on Wall Street up 2.16% at $12.35.
China growth
Europe's largest carmaker, Volkswagen, also enjoyed a good start to 2010.
The 16% rise in first-half sales was driven by strong demand in China, up 45.7% to 950,300 vehicles, and the US, up 29.2% to 175,300.
Volkswagen sold a total of 3.58 million cars in the first six months of the year.
"We are also optimistic as regards the full year and expect to perform better than the overall market," the company's sales chief Christian Klingler said.