Mortgage lending by UK banks fell in June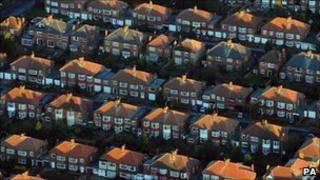 Mortgage lending by the major UK banks dipped in June compared with the previous month, figures show.
The number of mortgages approved for house purchases in the month fell to 34,813, the British Bankers' Association (BBA) said.
However, net mortgage lending was still 4.1% higher than a year earlier.
Meanwhile, people continued to pay off more of their unsecured debts than they spent on credit cards, personal loans and overdrafts, the BBA said.
Hips scrapped
The drop in mortgage lending came despite some extra activity in the housing market brought by the abolition of Home Information Packs (Hips).
HM Revenue and Customs reported earlier in the week that the number of sellers was rising. The sales figures were the highest this year and were up 15% on the same month last year.
But a dip in future demand from buyers was in evidence in the BBA figures. The number of home loans approved for house purchases was down from 36,418 in May, the BBA said.
This was the lowest level since February and down from the average of the previous six months of 37,027.
"The banks' mortgage lending position was little changed in June. The abolition of Hips and a reported increase in the number of house sellers is expected to encourage activity in the market, though this may be tempered by households' uncertainty over job prospects and the impacts of fiscal tightening," said BBA statistics director David Dooks.
Net mortgage lending - which strips out redemptions and repayments - fell from £2.5bn in May to £2.1bn in June.
This was also down from the average of the previous six months of £2.5bn, although it was still higher than a year earlier.
'Seasonal'
The figures contrast somewhat with gross mortgage lending data from the Council of Mortgage Lenders released earlier this week. It reported that mortgage lending in June was the highest of any month so far in 2010.
But the lenders' group warned that the figure was a seasonal pick-up and that lending in general remained sluggish.
A report from the Bank of England this week warned that the supply of mortgage funds for the public might fall in the next three months.
It said lenders feared they may not be able to raise as much money as they need by borrowing from each other in the wholesale financial markets.
Spending on plastic
The BBA figures show that consumers' safety-first approach to unsecured borrowing has continued throughout the year.
Repayment of consumer credit has outstripped new borrowing by 2.7% over the past year.
Borrowing on credit cards rose by £120m in June, but repayments of personal loans and overdrafts outstripped new borrowing by £314m.
New lending in personal loans was 19% lower than a year ago.