Microsoft profits hit $4.5bn on Windows 7 sales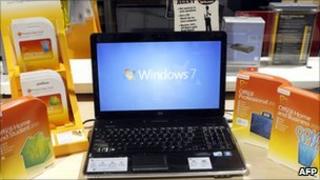 Microsoft has reported profits of $4.52bn (£2.96bn) for the three months between April and June - up 48% on the same period last year.
The software giant said strong sales of its Windows 7 operating system helped to boost profits.
The company said 175 million Windows 7 licences had now been sold since its launch last year.
Total revenues hit $16bn with strong sales from the Bing search engine and the Xbox games console.
Profits for the year to the end of June were $18.76bn, a 29% increase on the previous 12 months.
"The revenue growth, combined with our ongoing cost discipline, helped us achieve another quarter of margin expansion," said Peter Klein, Microsoft's chief financial officer.
As well as the launch of new products, including Office 2010 earlier this year, Microsoft has benefited from a rebound in technology spending.
Worldwide sales of personal computers have risen by more than 20% in the last three months, according to research company IDC.
Amazon profits up
Microsoft's strong results came amid a raft of positive corporate news from the US.
Online retailer Amazon also reported a big rise in its profits for the quarter, which were up by 45% on last year at $207m.
Amazon said a big increase in sales of electronic books for its Kindle device had helped profits.
Its flagship store Amazon.com is now selling more Kindle books than hard copies, the company said, with Kindle book sales now up 200% on the same time last year.
Earlier, machinery maker Caterpillar, delivery firm UPS and telecom AT&T also reported strong earnings.
In response, shares on Wall Street's Dow Jones Industrial Average ended the day up nearly 2%.