Equitable Life: Timeline of key events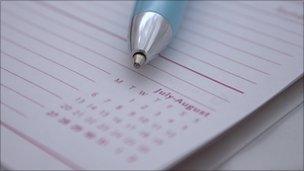 Equitable Life came unstuck after making promises to policyholders that it could not afford to keep.
Here we chart the major events since the near collapse of the world's oldest life assurer in 2000.
In 1999, Equitable launched court proceedings to enable it to force policyholders to accept bonus cuts. It won the first stage of its battle only to lose in the Court of Appeal and then the House of Lords.
Unable to pay the £1.5bn cost of losing the court case it was forced to put itself up for sale. In December 2000, having failed to find a buyer, the insurer closed to new business.
The most recent developments appear at the top of the timeline. Scroll to the bottom for the first entries.
20 October 2010 - Chancellor George Osborne announces that compensation of £1.5bn will be paid, with the first £1bn paid over three years. This includes £620m for those who had with-profits annuities. Campaigners describe the figure as "woefully inadequate".
22 July 2010 - The government announces that payouts will begin in mid-2011. It sets up an independent commission to advise how compensation will be paid.
Sir John Chadwick publishes his report, saying that the investors' absolute loss was between £2.9bn and £3.7bn but their compensation should be capped for each policyholder at between 20% and 25% of that. That would have implied a total payout of between £400m and £500m. The government says this report will be considered alongside other submissions.
4 June 2010 - Former Equitable auditors, Ernst and Young, are fined £500,000, plus costs of £2.4m, and reprimanded for failing to warn policyholders of the society's problems a decade earlier.
25 May 2010 - Equitable Life Bill announced.
12 May 2010 - New coalition government says it will propose an "enhanced" compensation scheme in line with the Parliamentary Ombudsman's recommendations.
21 October 2009 - Labour government agrees proposed compensation scheme, being devised by Sir John Chadwick, should cover more people than originally planned
15 October 2009 - High Court approves the Labour government's limited compensation plan for victims.
21 July 2009 - The Equitable Members Action Group goes to the High Court to call for a judicial review over the government's decision not to follow recommendations to offer full compensation to victims.
19 March 2009 - The public administration committee says it is "deeply disappointed" with the government's limited remedy scheme.
29 January 2009 - Parliamentary Ombudsman Ann Abraham says she is "astonished" at the government's "unsatisfactory" response to her report.
15 January 2009 - The government announces that it will compensate those policyholders "hardest hit" by the collapse. Former appeal court judge Sir John Chadwick will advise the government on who will receive payment and how much. Opposition MPs and campaigners, however, say the scheme does not go far enough.
15 December 2008 - MPs on the Public Administration Select Committee call on the government to comply with the Ombudsman's recommendations and to apologise to the Equitable's savers.
17 July 2008 - Parliamentary Ombudsman publishes a major report saying ministers should set up a compensation fund for policyholders in the Equitable Life.
10 January 2008 - The law firm Clarke Willmott announces it has reached a settlement with Equitable Life on behalf of 407 with-profits annuitants. Equitable agrees to pay an undisclosed sum to the policyholders.
The annuitants launched proceedings against Equitable in the High Court in 2004, alleging that their annuity policies had been mis-sold by the society between 1990 and 2000.
2 January 2008 - The transfer of all of Equitable's with-profits annuity polices to Prudential is completed.
10 December 2007 - Parliamentary Ombudsman Ann Abraham finally gives MPs the progress update she promised for October. She proposes circulating her revised draft to the government and other interested parties, and advises MPs she will not now publish her report before April 2008.
Policyholder groups condemn the continuing delay.
4 December 2007 - The Royal Courts of Guernsey and Jersey approve the transfer of with-profits annuitants based in the Channel Islands to the Prudential.
30 November 2007 - The High Court approves the Prudential deal.
26 October 2007 - At Equitable's extraordinary general meeting, more than 98% of voting members support the transfer of £1.8 billion with-profits annuity policies to Prudential. Subject to approval from the High Court, the transfer is expected to take effect on 31 December 2007.
19 June 2007 - The European Parliament calls on the UK government to compensate Equitable policyholders after MEPs vote overwhelmingly in support of a highly critical report from a committee of enquiry set up to examine the crisis.
The report blames the UK government for failing to ensure that EU legislation on insurance had been implemented properly, and said the UK's financial regulators had been "excessively lenient" in failing to ensure that Equitable was solvent.
The MEPs acknowledge that they have no power to enforce their recommendations.
1 June 2007 - Equitable's sale of University Life to Reliance Mutual is completed.
22 May 2007 - Parliamentary Ombudsman Ann Abraham gives another progress update on her investigation.
In a letter to MPs she says the draft report she sent to the Treasury, the Government Actuary's Department and the Financial Services Authority in January 2007 prompted a "substantial" joint response running to more than 500 pages.
She says she will need "some time" to consider the response, and will therefore not publish her report before the summer recess as planned. She promises an update in October.
15 March 2007 - Equitable Life agrees to transfer £1.8 billion of with-profits annuity policies to Prudential. The deal involves the transfer of approximately 62,000 with-profits annuities (representing some 50,000 annuitants). It requires approval by members at an extraordinary general meeting and by the High Court.
12 February 2007 - The transfer of £4.6 billion of non-profit pension annuities to Canada Life is completed after approval is granted by the High Court and the Royal Court of Guernsey.
20 December 2006 - Equitable announces the sale of its wholly owned subsidiary University Life to Reliance Mutual for an undisclosed sum. University Life has £30 million of assets and fewer than 2,000 policyholders.
16 October 2006 - The Parliamentary Ombudsman Ann Abraham warns of yet another delay in her investigation into the prudential regulation of Equitable. She now says the earliest she expects to publish is May 2007.
11 May 2006 - Equitable announces a deal to transfer £4.6 billion of non-profit pension annuities to Canada Life. This represents approximately 130,000 policies. Subject to approval from the High Court, this would be the largest transfer of a non-profit annuity portfolio in the UK.
24 February 2006 - The Parliamentary Ombudsman Ann Abraham tells MPs she hopes to complete her investigation by the end of the year.
18 January 2006 - The European Parliament announces an investigation into the Equitable scandal. The investigation will focus on whether the government failed in its regulatory duty and may call on UK Treasury officials to testify.
2 December 2005 - Equitable abandons its case against 15 former directors at a cost of £10m, groups representing members call for Vanni Treves resignation.
October 2005 - The Parliamentary Ombudsman Ann Abraham tells the Public Accounts Select Committee of MPs that the hopes to publish her report in the spring of 2006.
22 September 2005 - The case against Ernst & Young is dropped entirely at a cost of £30m. Ernst & Young chairman Nick Land described Equitable's decision to abandon the case as a "complete vindication" adding the case was "ill conceived" and should never have been launched.
18 July 2005 - Equitable drops part of its claim for damages against Ernst & Young.
11 April 2005 - Equitable sues former auditor Ernst & Young and 15 former directors for £4bn. The mutual claims that the directors failed in their duties to policyholders and the auditor signed off its accounts without warning of the problems that led to its collapse.
21 March 2005 - The troubled mutual's chairman Vanni Treves says Equitable's finances are in a better state than at anytime since 2000.
24 November 2004 - In a letter to MPs Ann Abraham says she hopes to publish her report by the end of 2005.
19 July 2004 - Parliamentary Ombudsman Ann Abraham announces she will reopen her investigation into the life assurer. She will examine the government's role in the prudential regulation of Equitable Life in the period prior to 2 December 2001.
15 July 2004 - More than 700 pensioners, known as "trapped annuitants" lodge a multi-million pound claim against the society.
8 March 2004 - Lord Penrose's report is published, accusing the former Equitable management team of "dubious" practices and nurturing a "culture of manipulation and concealment".
23 January 2004 - Ruth Kelly, Financial Secretary to the Treasury, passes the soon to be published Penrose report to the Serious Fraud Office.
12 November 2003 - In its interim accounts, the society says it is "solvent" but "challenges and uncertainties" lay ahead.
17 October 2003 - Equitable Life wins the right to sue nine former non-executive directors for £3.3bn.
25 July 2003 - Equitable wins its appeal and can now sue its former auditor Ernst and Young for £2.6bn
1 July 2003 - The Parliamentary Ombudsman, Ann Abraham, clears the Financial Services Authority of any wrong-doing. Report raises serious questions about public expectations of financial regulation.
23 May 2003 - The Financial Ombudsman tells Equitable that it must compensate GAR policyholders who were removed from the firm's with-profits fund before the compromise scheme was agreed.
14 February 2003 - The case for damages brought by the Equitable against its former auditors Ernst & Young for failing to offer proper advice in the 1990's is thrown out by the High Court.
The judge in the case describes Equitable's claim for damages as "fanciful". The Equitable announces that it will appeal the decision.
18 December 2002 - Equitable chairman Vanni Treves says that Equitable might consider suing the government if the Penrose report finds that governmental regulation was inadequate.
22 November 2002 - The FSA say it is backing Equitable and it should not be wound up.
15 November 2002 - Equitable cuts income paid to 50,000 with-profit annuity holders by 20%.
29 September 2002 - Equitable denies a report that it is secretly planning for insolvency - a move which would put the savings of its 1.5 million members at risk.
1 July 2002 - Members who move away before their policy before it matures will face increased exit penalties and smaller surrender values.
27 May 2002 - At the first annual general meeting since Equitable's compromise deal to end its £1bn pension liability was passed, members were told that the company was "solvent".
8 February 2002 - The High Court approves the rescue package, paving the way for a £250m cash injection from the Halifax.
28 January 2002 - Equitable announces that its policyholders voted overwhelmingly in favour of the rescue package. 98% of the company's guaranteed policyholders backed the deal.
11 January 2002 - Policyholders meeting to vote in person on the compromise deal, a last-ditch rescue package aimed at salvaging the companies finances and meeting its liabilities.
13 November 2001 - Sir Howard Davies to be questioned by Treasury Select Committee.
30 October 2001 - Treasury Select Committee.
Sir Howard Davies and Ruth Kelly MP, economic secretary to the Treasury, were cross-examined by the Treasury select committee.
Sir Howard admitted that there had been management failures, but it was Equitable Life which was "arrogant" and had blocked attempts by the FSA to investigate its troubles.
Ms Kelly gave a glimmer of hope to policyholders by saying that the government might consider compensation for some victims if a "grave injustice" had occurred.
17 October 2001 - Baird report published.
Report by FSA director of internal audit Ronnie Baird wrote the report, which investigated the FSA, PIA and Treasury's handling of Equitable between January 1999 and December 2000.
The report concluded that the FSA had failed to spot key problems and follow up issues that had been uncovered among other issues.
However, Mr Baird also said that the "die was cast" before the FSA took over regulation.
20 September 2001 - Equitable publishes a compromise deal for policyholders.
It proposes that 70,000 guaranteed policyholders (GARs) should get a 17.5% increase in the value of their plans and sign away their guaranteed pension rights.
And the 415,000 policyholders, who are not GARs, are being offered a 2.5% increase on the value of their policies, but must sign away their rights to any legal claims.
31 August 2001 - The Government announces that it is to launch a full investigation into the circumstances leading up to the downfall of the assurer.
Lord Penrose - an accountant and commercial judge - will head the inquiry.
22 August 2001 - The board meets with the action groups in order to thrash out a compromise deal in order to clinch the money promised by the Halifax.
The details of the compromise are not yet made public.
16 July 2001 - With-profits policy holders are shocked and angry to learn that their savings will be slashed by 16%.
But the board says desperate times require desperate measures.
23 May 2001 - Equitable Life's new management faces angry policyholders at its first annual general meeting since the crisis began.
5 February 2001 - Halifax clinches the deal. The Halifax agrees to pay £1bn to buy the Equitable's sales force and non-profits policies.
The £1bn payment will allow the society more freedom to invest the funds of the with-profits policies.
The deal is subject to policyholder approval.
3 February 2001 - After seven months of searching for a buyer, two bidders suddenly emerge: GE capital and Halifax.
10 January 2001 -The part played by chartered accountants auditing Equitable Life is to be investigated by the Institute of Chartered Accountants.
9 January 2001 - The Equitable Life Guaranteed Annuity Action Group proposes a compromise to the Equitable, aimed at ending the dispute and capping the society's liability.
23 December 2000 - The Office of Fair Trading (OFT) wrote to the Equitable Life requesting information on the untimely rise in its penalty exit fee.
22 December 2000 - Equitable Life begins to sell-off its operations in order to generate cash to pay policy holders.
Equitable's wholly-owned subsidiary Permanent Insurance Company Limited was sold off to Liverpool Victoria for £150m, payable in cash.
20 December 2000 - The president and seven non-executive directors of Equitable Life announced that they will quit when replacements are found.
19 December 2000 - The Treasury announced that the Financial Services Authority (FSA) is to be probed, following criticism that the regulator should have acted faster in order to protect policy holders.
9 December 2000 - Policy holders are even more outraged and complain of being trapped when Equitable Life increased its penalty fee for withdrawing funds to 10%.
8 December 2000 - Equitable Life closed its doors to new business, having failed to find a buyer. The society remains solvent and continues to pay out premiums on existing policies.
December 2000 - Policy holders are outraged to discover that no with-profits policies will receive any growth for the seven month period from 1 January to 31 July 2000.
Equitable Life had not allocated any growth to its with-profits policies in the first half of the year, hoping that additional funds would emerge from a take-over.
27 July 2000 - Prudential, the UK's biggest life assurance company, mulled a £5bn bid for Equitable Life.
About ten companies were thought to have considered a take-over, but no firm bids ever materialised.
20 July 2000 - But the House of Lords upheld the Appeal Court's ruling.
And the company - unable to pay the £1.5bn cost of losing - was forced to put itself up for sale.
21 January 2000 - Equitable Life's confidence was shaken when the Court of Appeal reversed the decision, ruling that the Society must honour its original commitments.
Equitable Life immediately decided to appeal against the decision to the House of Lords.
9 September 1999 - Equitable won the first stage of the battle when the Court ruled that it acted lawfully in cutting bonuses.
But the pension policyholders immediately decided to appeal.
5 July 1999 - The first court hearing took place.
15 January 1999 - Equitable Life launched court proceedings in order to gain approval for its plan to ask some policyholders to accept a cut in bonuses since it could no longer afford what it had once promised.
But policyholders responded by taking legal action for alleged breach of contract.
Related Internet Links
The BBC is not responsible for the content of external sites.