Pensions: Approval for changes to academics' scheme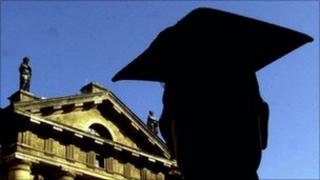 Trustees of one of the largest pension programmes in the UK have given approval for major changes to the scheme.
Some 130,000 members of the universities' final-salary scheme could see changes to their pension age and higher contributions.
New entrants to the Universities Superannuation Scheme (USS) could also see their pension pot based on their career average earnings.
Two years of talks broke down recently.
Negotiations between the employers and the Universities and Colleges Union had been based on what to do to tackle the scheme's reported £17bn deficit.
Sir Andrew Cubie, who chaired the talks, used his casting vote in favour of the employers' proposals earlier in the month.
And on Thursday, the USS trustee board approved the plan.
"After careful consideration of the Joint Negotiating Committee's recommendation, the trustee board confirmed its acceptance of the proposed scheme changes, concurring with Sir Andrew's view that they are in the best, long term interests of the scheme as a whole," the USS trustee board said.
Plans
The scheme's membership includes academics at 400 institutions in the UK.
The "minimum" changes that are needed to maintain the scheme, according to employers, included:
Raising pension age from 60 to 65 for those aged under 55
Linking pension age to the state pension age
Increasing the employee contribution for those on the final-salary scheme to 7.5%
Pensions in payment will rise in line with the Consumer Prices Index (CPI), to a cap of 5%
Deferred pensions will rise in line with CPI or 2.5%, whichever is lower
A new formula to share any increase in the costs of pensions between employers and staff
A career average scheme to replace the final-salary scheme for new joiners.
None of the changes affect the rights of pensioners, or deferred pensioners, who have left the scheme, or who leave before 1 April 2011.
Employers said that action needed to be taken because the scheme had been hit by greater life expectancy, significant pay rises in higher education, and an uncertain future for investment returns on the scheme's assets.
The union said that a ballot of members should be held because the proposals outline "sweeping changes" to the scheme.
Members will be able to have their say on the proposed changes during consultation which should start in September.
Employees will then report the outcome of the consultation to the trustees in December. If given the go-ahead, the changes would come into force in April 2011.